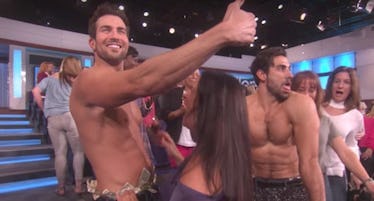 'The Bachelorette' Group Date On 'Ellen' Was Equally As Awkward As It Was Hot
YouTube
We've reached Episode 3 of Rachel Lindsay's season of The Bachelorette, and things are finally starting to get steamy.
After that terribly awkward fight with Lucas and Blake, I think we all deserve a little eye candy, don't you?
Well, ABC delivered handsomely, as it always does, with an awkward yet blessedly shirtless group date on none other than The Ellen Show.
Yep, hardcore Bachelor nation residents will remember this group date from when it aired on Ellen back in March. The version that aired tonight went a little more in depth, with behind-the-scenes interviews with the guys on how they were feeling about their, um, big debut.
Fred, Alex, Jonathan, Bryan, Will, and Peter joined Rachel and Ellen DeGeneres on daytime television for a game that can only be described as "stripping."
The objective? To collect as many dollar bills from the audience as they could by dancing to Ginuwine's "Pony." (AKA, the Magic Mike song.)
Stripping wasn't strictly required but, c'mon. This is The Bachelorette. Of course they all stripped.
The second the music began, the shirts came right off.
And hey, I'm not complaining.
Each contestant had their own method of stripping. Alex tried his hand at twerking.
...To mixed success.
Will had quite the connection going on with an audience member.
Should Rachel be worried?
Nice Peter from Wisconsin opted for a more polite "clapping along to the music" method.
Whereas Fred went for the "just standing there, not moving" strategy.
Will and Alex ended up with the most cash, so they moved on to the "Make it Rain" challenge, where the boys were tested on their knowledge of Rachel, and then doused in water. (Thank you, Ellen.)
Next they played a game of "Never Have I Ever," in which we find out Alex pees in the pool of the mansion. (Gross.)
Bless Ellen DeGeneres for bringing some much-needed comedy to this episode of The Bachelorette.