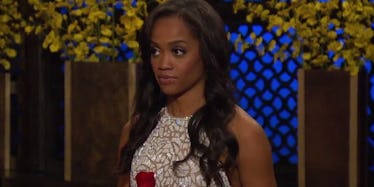 'Bachelorette' Rachel's First One-On-One Was The Most Perfect Date Ever
ABC
Monday night's episode of "The Bachelorette" gave us a lot to talk about as always.
First, there was the group date, which included surprise guests Mila Kunis and Ashton Kutcher -- no big deal.
Then, Rachel Lindsay had her first one-on-one date, and Peter drew the lucky card. The note read,
Peter, I'm looking for my best friend...
As a reminder, Peter is the 31-year-old personal trainer and was the first to get out of the limo on premiere night. He's also from Wisconsin (so was Nick Viall).
Obviously, getting picked for the first one-on-one date is a pretty big deal.
In case you are a TOTAL newbie to Bachelor Nation, a one-on-one date is really just what an actual date is in the real world. But in TV world, it's a big effing deal because all the other dates are "group dates," meaning the guys have to awkwardly compete for attention from the same girl.
For their special day, Rachel flew Peter to Palm Springs. First, though, she scared him (and all of us) by saying it wasn't going to just be the two of them. Luckily, the surprise third party on the date was Rachel's dog!
They attended a special dog party at the pool and talked about typical first date things -- you know, like if Peter would be willing to move from Wisconsin to Dallas.
OK, but actually it was the best date ever. I mean, they flew on a private jet to a pool party WITH DOGS.
After the puppy pool party, they ate a romantic candlelit dinner.
At one point, Rachel turned to Peter and said,
You're so great, how are you still single?
So that's a good sign for him. The date, of course, ended with a rose.
Peter has definitely emerged as a frontrunner.
Some geniuses over at FiveThirtyEight took it upon themselves to analyze all 33 seasons of "The Bachelor" and "The Bachelorette," and they found some really interesting stats that highlight just how important it is to get a one-on-one date early on in the competition.
According to their math,
Four to six weeks before the field is reduced to four, contestants who have and survive one-on-one dates remained on the show, on average, 1.5 to two weeks longer than contestants overall.
Based on that reasoning, it looks like Peter will be hanging around for a while.