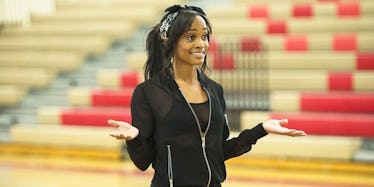 'Bachelorette' Rachel Lindsay Sends Two Guys Home In Emotional Week 7
ABC
Rachel Lindsay is quickly narrowing down her guys. The Bachelorette is now officially down to her final f0ur suitors after sending two dudes packing on Monday night's episode.
That's right — it sounds like we're just a couple of weeks away from the big finale, and next week's hometown dates will whittle down Rachel's four guys to just three. But before we get ahead of ourselves, let's pay tribute to the two men that Rachel kicked to the curb at the end of their trip to Geneva.
Honestly, if you look at how Rachel's been giving out her roses this season, it shouldn't be a surprise she chose to keep Dean, Peter, Eric, and Bryan around and send Adam and Matt home. Adam and Matt were the only two guys in the group of six that had never received a rose from Rachel during a date.
Both eliminated contestants felt a bit like floaters in the season — solid dudes that are nice enough but clearly didn't interest Rachel as much as the others. They wound up making it pretty far because they are both catches, but there just wasn't enough passion between them and Rachel to get to the end.
Let's start with Adam. The real estate agent came into the show strong (and strange) by introducing his creepy doll Adam Junior. The quirky bit definitely helped him stand out from the pack, but not necessarily for all the right reasons.
But after the premiere, Adam started to leave AJ behind on his dates with Rachel, and actually became a pretty viable contender to win the season. He proved to be a sweet, funny, and drama-free dude who you could tell Rachel was fond of, but sparks were never exactly flying between them.
On Monday's show, Adam spent most of the time moping about the fact that pretty much every other guy got a one-on-one date with Rachel in Geneva. So... it was pretty clear from the start that he was probably on his way out.
And then there's Matt. Like Adam, Matt came into the show making a huge splash during the premiere. He entered the house in a full penguin costume, immediately capturing Rachel's attention.
But since then, he's been such a low-key contestant that viewers have even admitted to forgetting his name. Somehow, he snuck by week by week, but the final four really is the time where you either have to stand out or go home, and Matt just didn't stand out.
On Monday's show, Matt spent most of his time commiserating with his fellow unwanted suitor Adam over never being chosen for one-on-one dates with Rachel. Again, it didn't take a fortune teller to predict these two were going home tonight.
Although Matt's elimination was pretty predictable to most viewers, what was a surprise was how emotional Rachel got when she sent him home. Though the two didn't appear to have any chemistry on-camera, Rachel broke down in tears when she said she had to let him go.
Next week, it's the infamous hometown dates that historically make or break the remaining contestants, and often decide who will win the season, so get ready for some major romance and major drama!