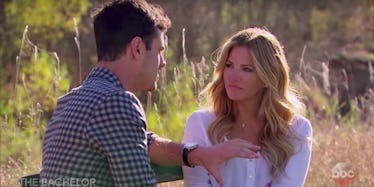 'Bachelor' Ben Higgins Admits Why He Sent Becca Tilley Home And It Will Destroy You
ABC
When former Bachelor Ben Higgins sent home Becca Tilley during Season 20, I was crushed over my television BFF. Higgins recently opened up on iHeartRadio to talk about why he sent Tilley home, and it will destroy you.
You may remember Tilley as a runner-up on Chris Soules' season. She then returned on Ben Higgins' season for a second chance at love. Sadly, she was sent home right before hometowns.
In case you didn't know, Becca Tilley is major #goals.
Everyone on Twitter (and in life) agrees.
She's sweet, hilarious, has the best hair, and loves talking about Grey's Anatomy. Same, Becca, same.  America was stabbed in the heart when Higgins sent her home right before hometowns. What made it even more heartbreaking was Tilley asked to be on this season because she was genuinely interested in dating Ben.
During the season, they had this conversation where she makes Higgins promise not to "blindside" her. Ugh, heartbreaking. Higgins ended up choosing Lauren Bushnell at the end of the season instead, but the two have recently called it quits.
Fast forward to June 29. Tilley joins former Bachelor contestant, Ashley Iaconetti, and Ben Higgins on the Almost Famous Podcast. What's more awkward than hanging out with an ex? Talking through why he dumped you.
Higgins explained in the podcast,
I knew that Lauren [Bushnell] was someone who was extremely special to me ... To bring back Becca to her hometown would have been so hard on her and her family ... I saw it with Nick's [Viall] family, how emotional it was for his second hometown ... They were so torn with that. Families don't sign up for this. We do.
Higgins definitely didn't expect how complicated the season would be. He said,
If I could've taken Becca to Jamaica, I would've loved to. But it wasn't right so I had to do the hard thing and send her home from Warsaw [Indiana] ... That was a terrible situation ... I did have to let Becca go, it wasn't fun, I could've probably done it better...
He did add in,
She ripped me a pretty good one that night on the bench.
So sad. Why couldn't he just have loved her?!? Actually, the two remain friends, and the entire podcast is in good humor. Since the show, Tilley dated former Bachelorette contestant, Robert Graham. Funny, right?
They were the cutest couple, but broke up in May, according to E! News.
All in all, Ben Higgins sent Becca Tilley home to try and do the right thing. America thought it was the wrong choice, but that's a conversation to have over wine.