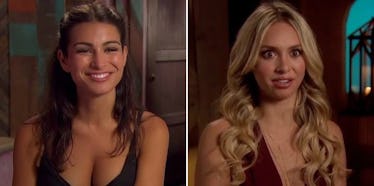 Ashley I. From 'The Bachelor' Gives Opinion On Corinne's Possible Reality Show
ABC
If you miss Dolphin Girl and all the other contestants who got kicked off Nick Viall's season of "The Bachelor," then don't worry, there's still hope for their return!
Nick's lovely ladies have the chance to find love (or just make out with 5 million guys) on "Bachelor in Paradise."
If you've watched the spin-off reality show before, you know it's one big, sloppy love fest between all the rejected "Bachelor" and "Bachelorette" contestants.
There are tears, there's drama and there's a lotttt of sex. Oh boy.
Contestant Ashley Iaconetti is pretty familiar with "The Bachelor" franchise, appearing once on Chris Soules' season and twice in "Paradise."
Elite Daily had the chance to speak with the 29-year-old at the iHeartRadio Music Awards red carpet and talk about this season of "The Bachelor" and who she thinks will end up on "Paradise."
When asked if she'll be rejoining the cast in the summer, Ashley made it clear she is not interested in returning for another season. She said,
No, no, totally done. Can't do it four times unless you're Nick.
OUCH. Sorry, Nick!
So, Ashley, who do you think will end up on "Paradise?" Can we expect our fan-favorites to be there? Ashley shared,
I mean everybody thinks Corinne, obviously, and then I think... Kristina is gonna be a big hit with the guys and so will Danielle L.
All great points, especially Corinne.
However, the 24-year-old has been rumored to have her own reality show in the works. Corinne recently told E! News,
I think America is interested in me having a reality TV show with my family, my family is awesome, as you all could tell on my hometown date. America totally wants it, I hear it all the time. There is a lot of talk about, I'm going to say a lot of networks are interested. Obviously, my loyalty is here with ABC and things like that. So there's still a lot of stuff to be worked out, but we'll see what comes in the future.
So what does Ashley I. think of this? Is she cool with Corinne breezing past "Paradise" and diving into her own series?
Ashley explained,
I think she should! I'd love to see her own show... happily ever after Corinne, right?
Ashley also weighed in on who she thinks Nick will choose in the end. Since we know Rachel will be the next "Bachelorette" the competition is down to Raven and Vanessa.
Ashley shared,
I think I'm gonna say Vanessa because she is sophisticated, classy, super smart... she gives him that push he needs, she checks him, puts him in place... I feel like they've probably had the most connection so far.
I can agree with that. Sorry Raven, but I think Vanessa has this one in the bag.
So, how does Ashley I. think Nick Viall has done as "The Bachelor," overall? She told us,
I think he's been really great, I'm really excited to see his proposal, hopefully, but we don't even know. He doesn't tell me stuff.
HE BETTER HAVE A FREAKING PROPOSAL AFTER ALL OF THIS. If Nick ends up with nobody then he's officially dying alone.
Ashley I. also talked about how she can relate to contestant Raven. When Ashley I. was on Chris Soules' season, she talked about sexuality throughout the show and admitted to Chris she was a virgin.
On season 21, Raven told Nick Viall she's never had an orgasm before. When asked about how sexuality has been amplified this season, Ashley commented,
The whole Raven situation was something I had a lot of sympathy for because I had to talk about certain private things on camera as well. I think if we just know Nick's past, he's slept with a couple Bachelorettes so I think they were going to make that a thing.
So true, Ashley, so true.
Be sure to watch the "Women Tell All" episode tonight on ABC to see the drama that goes down with Corinne and all the other women.