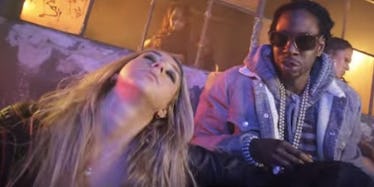 Corinne From 'The Bachelor' Was In A 2 Chainz And Juicy J Music Video In 2011
YouTube
Look, I could sit here and make some witty introduction about this, but I'd rather just get to the crux of it and tell you it appears everyone's favorite "Bachelor" contestant Corinne was in a 2 Chainz and Juicy J music video in 2011.
It just keeps getting better and better.
I almost didn't believe it myself, but then I watched the four-minute clip at the top and spotted Corinne in the official music video for "Zip & A Double Cup," and, suddenly, everything makes a lot more sense.
First off, let me just say that finding this video is pretty much equivalent to the first time we landed on the moon, right? Like, that's not up for debate.
Sorry, just had to get that out of the way, lest we underplay how amazing this is.
OK, back to the video.
I mean, doesn't this just make too much sense when you really think about it?
Like, what has Corinne done so far on this season of "The Bachelor"?
Well, she straddled Nick Viall in a bouncy castle, rubbed her bare boobs on Nick in a pool, took a lot of naps and enticed Nick to lick whipped cream off her boobs.
Like, guys, Corinne from "The Bachelor" is in a 2 Chainz music video from 2011.
I don't know about you, but I think I might need to take the rest of the day to digest this information.
Corinne Olympios is competing for Nick Viall's heart, but first, she was a video vixen?!?!
Sorry, Nick, but it looks like 2 Chainz and Juicy J had Corinne first.
Also, can we take a few minutes to analyze the lyrics in this 2 Chainz banger? "A zip and a double cup...I'm gettin' high as fuck."
I really didn't think it was possible to love Corinne Olympios more than I already do, but the fact she was featured in a 2 Chainz video obviously changes that.
Corinne, you never cease to amaze me. Don't screw this up, Nick!
Citations: Would You Believe Me If I Told You Corinne From The Bachelor Was In A 2Chainz and Juicy J Music Video? (Barstool Sports)