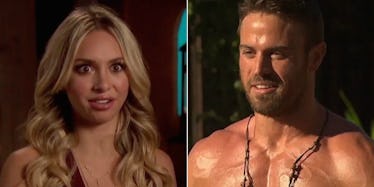 Twitter's Already Shipping Chad Johnson And Corinne For 'Bachelor In Paradise'
ABC
Hide any meats you don't want eaten bare-handed, cover any floors you don't want pooped on and, for the love of Raquel, someone guard the cheese pasta.
That's right: Bad Chad Johnson — whose name, I just realized, is also a type of fish penis — is officially returning to "Bachelor In Paradise 4," and fans are already shipping the Bachelor Nation villain with "Bachelor" season 21 spark plug, Corinne Olympios.
The "Bachelor In Paradise 3" reject, who was kicked off after the first night, confirmed during an interview with The Tea he'll be heading back to paradise.
He said,
I will be on 'Bachelor in Paradise.' I've already agreed to do it. I hope I don't get kicked off the first night!
Oh, Chad. It's like, don't then, bud. Just don't. Simply do not.
Ask yourself: "Should I poop on this floor?" Then answer, "no."
Ask yourself: "Should I scream at Chris Harrison about his mimosas?" Then answer, "no."
Ask yourself: "Do I need a fork to eat this dangly meat wad?" Answer (TWIST), "yes."
Then, just try to be kind to the other boys and girls and, you know, they'll understand you're a work in progress — just like them.
Since zero percent of the above will occur at any point during Chad's return, Twitter is calling for a Chad and Corinne match-up.
Chad is already aware of the potential he and Corinne will unite on live TV in the name of love, marriage and, eventually, the birth of the antichrist.
He told the site,
It sounds and looks like it's going to be exciting if that does go down.
Indeed, Chadlington. Indeed.
I, for one, wholeheartedly believe Corinne can do so much better than Bad Chad.
Even if Nick ends up sending her home this season on "The Bachelor," that girl should march into Mexico with a belly full of lemon salad and demand a date with someone who's never told the "BIP" hotel staff to "suck a dick."
Citations: Chad Johnson Is Returning To 'Bachelor In Paradise,' So Get Ready For More Of His Villainous Ways (Bustle)