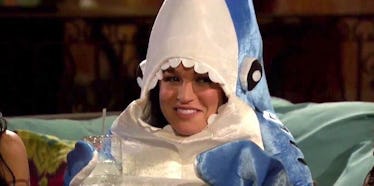 Dolphin Girl From 'The Bachelor' Trolls Ex Nick Viall With A Hilarious Meme
ABC
Dolphin Girl might have been sent home from "The Bachelor" in tears, but she's still the one getting the last laugh.
On Wednesday, February 22, 23-year-old Alexis Waters posted a hilarious meme on Instagram trolling Nick Viall.
The New Jersey native added a side-by-side image of Nick looking sexy and shirtless next to a more... unflattering photo.
YIKES.
The meme said,
When you order something online vs. when it comes in the mail
What a savage. Alexis, you are my hero.
Obviously, fans were loving it. Sorry, Nick. It looks like people love Dolphin Girl more than you!!!!!
If you're currently watching this season of "The Bachelor," you know Nick's performance on the franchise has had mixed reviews.
Some people are all for Nick and think he's a pretty genuine guy. While others, aka most people, think he straight-up sucks.
STOP CRYING EVERY EPISODE, NICK. KEEP IT TOGETHER, MAN.
I mean, Nick literally sent home Dolphin Girl. Only monsters could say no to this face!!!!
LOOK AT HER CUTE, LITTLE FLIPPERS. LOOK AT THOSE SHINY, WHITE TEETH.
Fuck you, Nick. Fuck you. I hate you. I'd still accept your rose and make out with you, but I HATE YOU.
Sorry, I'm just kidding. Kind of.
Anyway, everyone needs to follow Alexis Waters on Instagram because the "Bachelor" contestant posts a lot of funny shit.
I'm serious, I want this girl to be my best friend... except she's really pretty and I have enough self-esteem issues haha. (I'm working on them, OK?)
This was my favorite moment from the season, BTW. It's when Alexis admits her two biggest fears are Nicolas Cage and aliens.
Honestly, she's a legend. I could watch this clip all day.
Nick, you let a great girl slip away. I hope you at least find love this season so your long and painful journey can finally come to an end... for all of us.
XOXO, LOVE YOU!