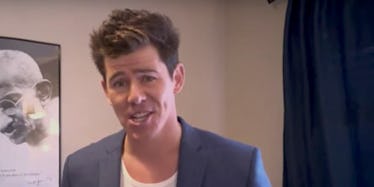 "Whaboom" Guy From 'The Bachelorette' Was On 'Kimmel' And The Clip Is Cringeworthy
ABC
He may be gone from The Bachelorette, but he certainly can't be forgotten... even if you really want to try to forget him.
Lucas — better known as the "Whaboom" guy — didn't get a rose from Rachel Lindsay on Monday night, but he did get an appearance on Jimmy Kimmel Live!, which he obviously made super awkward.
The controversial contestant showed off his (admittedly pretty spot-on) Ace Ventura impression that he said helped get him cast on the show, talked about his Bachelor in Paradise prospects, and finally cleared up what actually happened with #BananaGate.
The best part of the whole interview was just seeing the dread in Jimmy Kimmel's eyes as he has to force himself to continue asking this man who is famous for screaming a nonsense word on reality TV for three weeks about his life. Of course, Lucas uses the opportunity to talk more about his catchphrase/lifestyle, telling Kimmel that he's been "Whabooming since the womb" and plugging "Whaboom" T-shirts.
But the real scoop for Bachelorette fans is that we finally got the truth about #BananaGate. On Monday night's episode, both Lucas and his rival Blake were sent home after Lucas accused Blake of eating a banana over him in his bed, which Blake denied.
Turns out, it sounds like Lucas really did make the whole thing up. When Kimmel pressed Lucas to confess as to whether it really happened or not, Lucas ambiguously stated it might have been a nightmare, before confirming that it was a bad dream:
It either happened or it was a nightmare... It was a bad dream, it was a bad dream.
Clearly, Lucas just knows how to make great TV. And it sounds like he's going to keep doing it as a part of the Bachelor franchise. Kimmel joked that it seems "predetermined" that Lucas would be cast on the spin-off series Bachelor in Paradise, and Lucas played along, affirming "It's a given."
So I guess we should get ready to "Whaboom" again in Paradise. God help those other contestants.
Check out Lucas' full interview with Kimmy Kimmel below.