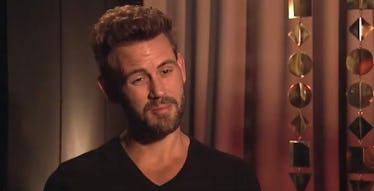 This Clip Of Nick Viall Getting Slapped On 'The Bachelor' Is Cringeworthy
ABC
In case you missed the premier of "The Bachelor," things are already starting to heat up between Nick Viall and the women.
On January 2, one contestant who loves dolphins dressed up as a shark, another woman talked about her platinum vajeen and one of the ladies looking for love showed up on a camel and ranted about humping.
So, fast forward to episode two, where, according to E! News, Nick Viall will go on a group date with six lucky ladies to the the Museum of Broken Relationships.
Um, this isn't weird.
In any event, while on the date in Hollywood, Nick Viall and the women reportedly have to stage fake breakups. Am I the only one who can't wait to watch these cringeworthy splits?
Speaking about the date, dental hygienist Kristina said,
We're kind of writing our own break-up story. [It's] actually first time I'm having a conversation with him!
These ABC producers are sick, man, and I love it!
Awkward as this whole group date might be, it wasn't cringeworthy until Josephine, an unemployed nurse, decided to slap the crap out of Nick Viall in their fake breakup!
Like, she really slapped him. I know they were supposed to be pretending, but there is nothing fake about this slap.
Don't believe me? Watch the clip for yourself and decide.
One glance at the look of shock, horror and revolt on the other contestants's faces tells you all you really need to know about the above scene.
Like, how did Nick not send Josephine packing after she slapped him silly?
To add insult to injury — literally — Josephine calls Nick a prick right before she ends the, uh, fake breakup.
Speaking on camera after the group date, Nick Viall said,
I think it's the first time I've ever been smacked in the face. It's not fun. I hope that's the last time.
Me too, homie.
Contestant Christen opened up about her experience with Nick so far on the show. She said,
We're just being silly... and just giggling a little bit. Nothing like, 'Oh, I feel like I have this amazing connection with him right now.'
She added,
Shockingly, this season the girls are getting along really, really well.
Hmm. We'll just have to wait and see how long the lovefest lasts.
Astrid also opened up about this season of "The Bachelor." She said,
We don't have a Chad [Johnson] and we're not drinking as much protein powder! Oddly enough, all the girls are getting along really well.
Finally, it looks like Nick may not be putting up with former flame Liz for that much longer. He didn't specify who he was talking about, but Viall recently said,
There might be someone... that I'm not really quite sure why they're here. I don't necessarily try to create drama but I think drama can be a tool to see how people react to certain situations.
We've only just begun!
Citations: Ouch! Watch One of The Bachelor Ladies Break Up With (and Slap!) Nick Viall on Their First Date (E! News)