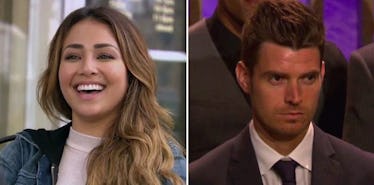 Luke Pell Opens Up About Rumors He's Dating 'Bachelor' Nick Viall's Ex
ABC
A few weeks ago, the entire internet went into meltdown mode after hearing rumors former "Bachelorette" contestant Luke Pell was dating former "Bachelor" contestant, and Nick Viall's ex, Danielle Lombard.
Speaking about Danielle L, the 32-year-old Pell reportedly told Us Weekly,
She's a great girl. But we haven't gotten to know each other yet. We haven't even had a real, proper date or anything yet.
Earlier this week, Luke Pell and Danielle L reportedly attended The Music Lounge by iHeartMedia + BMF Media event in Miami, which only escalated those dating rumors.
A source told E! News Pell and Lombard looked like quite the couple at the iHeartMedia event, saying,
They were trying to keep things under the radar. They were really sweet and affectionate with each other.
Finally, Pell set the record straight himself when he spoke about the rumors he's currently dating Danielle L.
The 32-year-old Nashville native said,
We're not exclusively dating, no. We are not. You know, a lot of the people get really excited to see 'Bachelor' alumni anytime that they're interacting. That was literally the second time that Danielle [and I] had met.
Interesting. Luke Pell continued,
I will say this -- [Danielle] is great. We have a lot of fun together the few times that we've been able to hang out and try to get to know each other.
So, when's the wedding date, Luke?
On a more realistic note, it's clear Luke Pell and Danielle L will totally be on "Bachelor in Paradise" together this summer, right?
Like, that's not up for debate.
Speaking on how some "Bachelor" fans want him to end up with Nick Viall's other ex, Raven Gates, Luke Pell said,
I can't count how many times I've been tweeted with Raven also in the same tweet about how we should be together. I am sure I will meet her at some point and then we'll see. She may be like, he's a freaking weirdo and I may think the same thing. So I have no clue. We'll just have to see.
Of his current time in the sun, Luke Pell added,
I'm having fun. I'm busy and I get to hang out with a lot of my 'Bachelor' family alumni too and that's always a blast.
I bet you are, my man!
Citations: The Bachelorette's Luke Pell Sets the Record Straight on Those Danielle Lombard Dating Rumors (E! News)