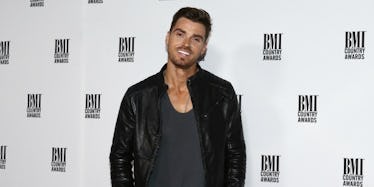 Luke Pell Confirmed He's Dating One Of Nick Viall's Exes From 'The Bachelor'
REX/Shutterstock
I don't know about you, but I did NOT see this one coming.
Remember Luke Pell, everyone's favorite "The Bachelorette" contestant from JoJo Fletcher's season? You know, the hunky dude from Nashville who made the entire internet scream at JoJo after she sent him home.
Well, according to reports, it appears the 32-year-old Pell is now dating one of Nick Viall's exes from the current season of "The Bachelor."
So, who's the former "Bachelorette" runner-up currently crushing on?
Apparently, Luke Pell is dating Danielle Lombard, better known as Danielle L.
Ayo! Who saw this one coming?
This is somewhat ironic, really, because after Luke Pell was dismissed from "The Bachelorette" by JoJo, a lot of Bachelor Nation was convinced he'd be the next "Bachelor."
All's well that ends well, right?
Speaking about Danielle L, Luke Pell told Us Weekly,
She's a great girl. But we haven't gotten to know each other yet. We haven't even had a real, proper date or anything yet.
According to reports, Pell and Danielle L first met roughly a month ago and have spent time together on numerous occasions.
Speaking on his life after appearing on JoJo's season of "The Bachelorette," the 32-year-old singer/songwriter said,
I'm just trying to get to know people and try to take everything slow. Some people assume it's easier to date after the show, because people know who you are and people are comfortable with who you already are. But I'm like, no, it's more complicated because people assume things, and everything's in the public.
Pell added of his recent time spent with Danielle L,
Oh, well, we were supposed to meet on the show but now we're meeting in person. How do you react to that, because you don't pursue it the same as you would on the show?
You tell me, Luke!
I'm calling it now, Luke Pell and Danielle L are going to have the cutest kids in the history of mankind.
Citations: Nick Viall's Bachelor Ex Is Dating This Bachelorette Alum (Refinery29)