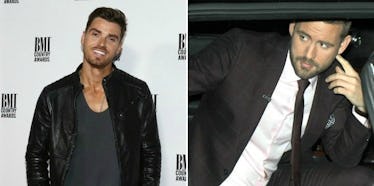 Luke Pell Slams Nick Viall: 'I Definitely Would Have Made A Better Bachelor'
REX/Shutterstock
Former "Bachelorette" contestant Luke Pell is forcing his way into the headlines with the ferocity of a sabertooth tiger.
Last week, the 32-year-old revealed he's pretty much dating former "The Bachelor" contestant Danielle Lombard, better known as Danielle L.
Speaking about Danielle L, Pell told Us Weekly,
She's a great girl. But we haven't gotten to know each other yet. We haven't even had a real, proper date or anything yet.
Now, the Nashville native is once again in the news after he slammed "Bachelor" Nick Viall in an exclusive interview with In Touch!
Speaking on the dude who apparently narrowly beat him out to be the season 21 "Bachelor," Luke Pell said,
I definitely would have made a better 'Bachelor.' I'm one of the most genuine and honest people.
He added,
Based on the unsolicited feedback I've gotten from people, this season has been terrible.
DAMN!!! SHOTS FIRED! SHOTS FIRED!
Luke Pell just came for Nick Viall's lunch money x 1,00,000, and you know what, I think he took it!
It gets better, though!
Apparently, Luke Pell told In Touch he thinks Nick Viall only agreed to do this most recent season of "The Bachelor" for the publicity.
Pell said,
He could have ended this season and [gone back to a normal life], but instead he chose to do the most narcissistic thing you can do, which is 'Dancing With the Stars.' I think that makes a statement.
Luke, I think you just made a much bigger statement, my man!
These are some serious fighting words, no? Like, we read all the time about celebs supposedly "beefing" or "feuding," but this is straight-up war!
The 32-year-old Pell seems more than a little pissed Nick Viall was chosen to be "The Bachelor" over him. When you hear about the alleged story of how Luke Pell found out he didn't get the part, well, it's not hard to understand his frustration.
According to In Touch, the war veteran found out he lost the role to Nick Viall just hours before he was scheduled to hop on a plane to LA to start filming season 21 of "The Bachelor."
Woof! I can't wait to hear Nick Viall's response!
Citations: LUKE PELL IGNITES FEUD WITH 'THE BACHELOR' ALUM NICK VIALL — SEE HIS DISS! (EXCLUSIVE) (In Touch)