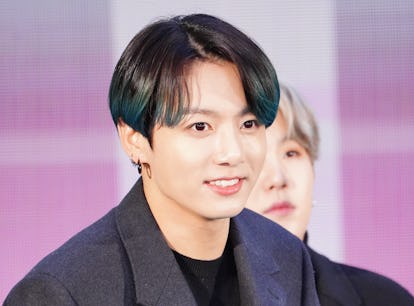 Here's A List Of Every Confirmed Tattoo On Jungkook's Sleeve
He's come a long way since he got his first "ARMY" tat.
JNI/Star Max/GC Images/Getty Images
Jungkook's tattoo collection has grown so much over the years. In fact, it's gotten so big that it's become hard to keep track of all of his unique designs. If you're having trouble remembering them all, here's a comprehensive list of all the tattoos fans have spotted on Jungkook.
Fans became aware of the singer's first tattoos in September 2019. Following BTS' month-long vacation, the members reunited at Incheon International Airport in South Korea, and that's where ARMY saw Jungkook's hand tattoos for the first time. Even though fans only caught a glimpse, it was just enough to send them into a frenzy. Flash forward to now, and Jungkook's whole arm is covered in ink.
Some of Jungkook's tattoos are more visible than others, but ARMY has managed to piece together all the different angles and glimpses of his tattoos to theorize what each one represents. So, without further ado, here are all of the tattoos Jungkook has debuted so far.
This article was originally published on