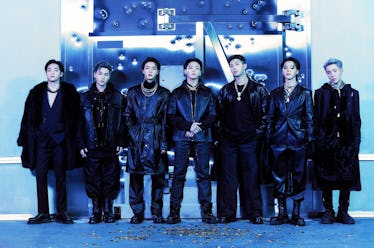 The Newest Photo Of BTS' Matching Tattoo Is Here
Their friendship ink is everything.
Photo Courtesy of BIGHIT MUSIC
It's no secret the BTS members are like brothers. I mean, they do practically everything together. In fact, the guys are so close that every member has gotten a matching "7" tattoo. With a January 2023 photo of V's tattoo being the latest piece of evidence, let's unpack the story behind their ink.
Last summer, the same day that BTS dropped their highly-anticipated anthology album, Proof, on June 10, 2022, RM sent fans into a frenzy by sharing a photo on his Instagram Story of his first tattoo. The picture showed a close-up of his ankle with a "7" tattoo in black ink. This happened months after V told a fan in April on the Weverse app that BTS would get "friendship tattoos someday."
Of course, ARMY believed RM's photo was a sign the group had finally begun the process of getting their friendship tattoos. On June 14, BTS dropped their FESTA dinner video, which featured a conversation involving the guys discussing ideas for their matching tattoos. They agreed they wanted something simple like a line, a dot, or a number seven to signify their "connection" as a band.
On June 15, fans' suspicions were all but confirmed when J-Hope debuted a "7" tattoo near his ankle as well. "Yet to come," he captioned the photo, referencing BTS' latest single.
Jungkook was the next member to show off the tattoo. On June 18, a tattoo artist with the Instagram username @polyc_sj posted a photo of the singer with a "7" inked behind his ear. That same day, V posted a photo on his IG Story of what appeared to be a "7" tattoo on his arm. He previously revealed that he would get the tattoo with Jungkook, however, some fans weren't sure if he had actually gotten inked since they thought his tattoo looked like it wasn't permanent. As it turns out, the tattoo wasn't real and he got his actual tattoo done on his thigh.
After V debuted his tattoo on Instagram for the first time on Dec. 16, his tattoo artist then shared a close-up of it on Jan. 3, 2023.
Meanwhile, Jin got his tattoo done on his left torso. He previously showed off the ink in a June 26, 2022 Instagram.
After fans thought they spotted Jimin with a "7" tattoo on his finger during BTS' June 16 performance on M Countdown, the singer confirmed it by posting a photo of his finger tattoo on Weverse on June 28, 2022. According to a fan translation by @BOMHARU1230 on Twitter, Jimin said he wanted to officially debut his tattoo at M Countdown, but because his "hands are too small," he realized you couldn't really see the tattoo clearly during the group's performance. That's why he decided to post a photo so fans could get a close-up of his new ink.
Although Suga hasn't posted any photos of his tattoo on social media, he confirmed during an August 24, 2022 livestream on Weverse that he got the ink done and is just waiting for fans to correctly guess its location.
This article was originally published on