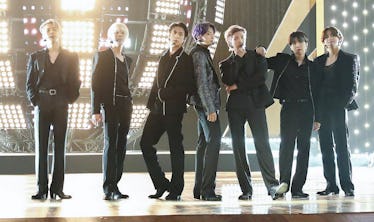 The 5 Best BTS DVDs Every ARMY Needs On Their Shelf
Hours of BTS content? Sign me up!
Billboard Music Awards 2021/Getty Images Entertainment/Getty Images
BTS' merchandise is on a whole other level. Unlike other DVD packages out there that only bring the disc, BTS' come loaded with extra goodies like photo cards, stickers, and posters, which is why ARMYs always want to get their hands on them before they sell out. However, since it can get pricey buying everything the group has to offer (especially with international shipping costs), you might be looking for just the best BTS DVDs you absolutely can't miss. Luckily for you, I've rounded up the top products you absolutely need below.
The group drops several DVDs each year, so it was hard to choose just a handful out of their entire discography. For example, ARMYs love taking a trip down memory lane with BTS' annual Memories DVD, which recaps their biggest releases and award show appearances from the previous year. Meanwhile, fans love BTS' yearly Summer Package because it shows the guys doing photoshoots in various locations around the world. As for their Muster DVDs, ARMYs can't get enough of them because they include footage from the group's anniversary concerts featuring classic songs from their expansive discography they rarely perform live anymore.
Each DVD shows a different side to BTS, so to make sure you get a bit of everything, I've included one from each series in this roundup. Without further ado, check out the best BTS DVDs below.
The group has nearly 50 DVDs to their name, so fans have plenty of options to choose from when adding to their collection. Although these five are some of the best BTS DVDs, you really can't go wrong with any in the septet's videography because they're all so amazing.