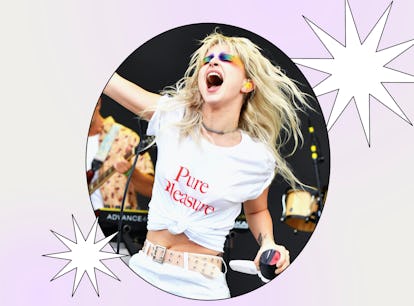 13 Paramore Songs That'll Refresh Your Stan Card
"This Is Why" the band remains iconic.
Jeff Kravitz/FilmMagic, Inc/Getty Images
Paramore is one of the most defining and influential punk-rock bands of the decade. And no, crowning them with that title isn't a dramatic take. The members of Paramore originally formed as young, emo scene teens with a soft spot for music. That aura can be heard on their 2005 debut album All We Know Is Falling, which teased their talent for pairing emotionally honest melodies with spunky guitar riffs. This combination became the bread and butter of their sound, and helped them break through the noise with 2008's Riot!. Ugh, talk about a timeless classic.
With those fiery guitar hooks and expressive wails courtesy of front woman Hayley Williams, Riot! brought something transcendent to the punk-rock scene. Seriously, my 15-year-old brain always had "Decoy" and "Let The Flames Begin" playing on auto-pilot. Not to mention, Riot! also influenced artists like Lil Uzi Vert, Olivia Rodrigo (ahem, "Good 4 U"), Billie Eilish, and WILLOW to channel their teen-and-twenty-somethings-angst through chaotic production. Now, nearly 15 years and a couple member changes later, Paramore's still raising the bar with their new album This Is Why.
The album, which dropped on Feb. 10, comes five years after the band took a brief hiatus in 2018. Paramore first teased their exciting comeback last year, releasing two singles ("This Is Why" and "The News") and embarking on a 17-date North American tour. By the end of 2022, the group revealed they're hitting the road again in March 2023 in support of their This Is Why album.
Obvs, Paramore stans have a lot to look forward to this year, so it's time to refresh your knowledge of their lyrics. From older, scintillating cuts on their Riot! album to their newer releases, here are 13 Paramore songs (not ranked in particular order) to know if you're looking to attend a show. Or two shows — no judgement here.
Paramore's sixth studio album, This Is Why, is out now.