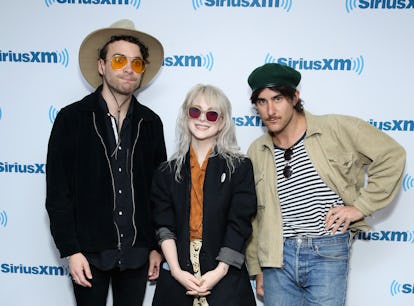 The Reason Only 2 Founding Members Remain In Paramore Is Complicated
The band has faced departures and legal battles.
Robin Marchant/Getty Images Entertainment/Getty Images
Paramore's grand comeback is not just long-awaited. It's quite impressive. After a four-year hiatus, the band returned with a tour, new singles, and their sixth album announcement in 2022. Their latest record, This Is Why, drops on Feb. 10, proving that Paramore is officially back as pop-punk royalty.
However, like many iconic bands, their rise to the top and triumphant return hasn't been without some drama. Since debuting in 2004, the group's lineup has shrunk and expanded over the years. Currently, Paramore consists of three members: lead vocalist Hayley Williams, drummer Zac Farro, and guitarist Taylor York. Zac's brother Josh Farro and bassist Jeremy Davis were also founding members; however, they are noticeably absent from the band's current lineup. Meanwhile, York joined the band ahead of their 2007 sophomore album, Riot!
Here's everything to know about the fraught history of Paramore's lineup, and how they settled on the current trio of bandmates.
July 2005: Paramore Released Their Debut Album
Paramore's beginnings began with the group's love for music as teens. According to Los Angeles Times, Williams moved to Tennessee after her parents divorced in 2002. While there, she met the Farro brothers at a homeschool program and Davis a little later, The Guardian reported. The foursome eventually started a band.
The Los Angeles Times reported around this time Williams signed a deal with Atlantic Records in 2004. She was brought on the label to be a solo act; however, Williams insisted on playing with Paramore. The label eventually relented, and Paramore released their debut album, All We Know Is Falling, on July 26, 2005. They did so on Atlantic's smaller sister label, Fueled by Ramen.
June 2007: Taylor York Joins The Band
Ahead of the release of their sophomore album Riot! in 2007, York joined the band as the guitarist. It seemed York was destined to join Paramore as he was a longtime friend to both Williams and Zac Farro.
December 2010: Zac And Josh Farro Leave The Band
The lineup changed in a major way on Dec. 18, 2010, when brothers Josh and Zac Farro left the band, according to an NME article from that year. The announcement came while the band was on tour promoting their 2009 album, Brand New Eyes. The remaining members — Williams, York, and Davis — shared in a since-deleted post on Paramore's official site that they weren't completely blind-sided by the brothers' decision to leave the band.
"A couple of months ago, Josh and Zac let us know they would be leaving the band after our show in Orlando last Sunday, [Dec. 12 at the House of Blues venue]," Paramore wrote at the time, per NME. "None of us were really shocked. For the last year, it hasn't seemed as if they wanted to be around anymore." Paramore concluded their statement by saying they'd continue on as a trio and wished the brothers good luck in their future endeavors.
2015: Hayley Williams Secretly Leaves The Group
In an interview for the July/August 2017 issue of The Fader, Williams revealed she privately left Paramore in 2015 to focus on her mental health. According to Williams, she was suffering from depression at the time and felt she had nothing more to contribute to Paramore. "I just was done," she told the magazine. "I thought, 'There's gotta be something else that I'm good at in my life. Maybe it's time for me to go find that.'"
Her time away from the band was short-lived. Williams also said that, shortly after she quit, York began sending her unfinished songs and she started writing lyrics again.
December 2015: Jeremy Davis leaves Paramore
In full, 2015 was another rough year for Paramore's lineup. Davis left the band before the year's end. Rolling Stone reported that on Dec. 14, 2015, Paramore announced his departure in a lengthy Facebook statement.
"We've written and re-written this countless times and there's just not a good way to put it…Jeremy is no longer going to be in the band with us," Paramore wrote. The band didn't go into much detail on Davis' reasoning for leaving, and it wasn't until 2016 that the band's behind-the-scene drama was revealed.
According to a separate Rolling Stone report, in February 2016, Davis filed a lawsuit against his former bandmates. At the time, he argued he didn't receive any "songwriting credits and respective royalties" from the band's 2013 self-titled album. Davis reportedly alleged he and Williams were partners in Varoom Whoa — the business entity that operates Paramore — and was entitled to the band's revenue. The legal dispute was settled in May 2017.
February 2017: Zac Farro Rejoins The Band
Nearly three months before Paramore settled their lawsuit, founding member Zac Farro reunited with the band. According to Billboard, the band announced the drummer's return by releasing a T-shirt that featured an image of Farro and a title that reads, "I'm Back."
2018: Paramore Went On A Brief Hiatus
Billboard then reported in 2018 that Paramore went on hiatus that year. This decision came a year after they released their fifth album, After Laughter. During their break, Williams released two solo albums (2020's Petals For Armor and 2021's FLOWERS for VASES/ descansos).
She also publicly addressed alleged homophobic remarks made by former bandmate, Josh Farro. According to Nylon, on Oct. 28, 2020, a Facebook post from Farro that allegedly labeled homosexuality as "a perversion" began circulating online.
Williams shared her thoughts on Twitter but did not name Josh Farro. "There's a reason there are only 3 people left in @paramore. surprise, haters, it ain't cause of me. Paramore do not condone religiously/politically dogmatic beliefs which leave our LGBTQ+ friends, fans, & family feeling abandoned and hopeless," she tweeted on Oct. 28. The post has since been deleted.
February 2022: Paramore Returns For The First Time In 4 Years
After a four-year hiatus, Paramore will release their latest album as a trio, This Is Why, on Feb. 10. Clearly, the group is back and hopefully for good.