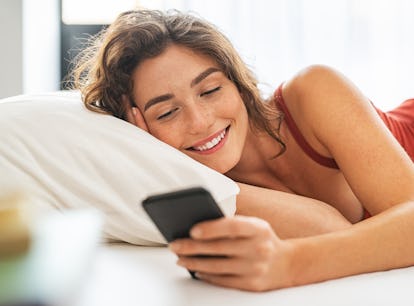 8 Texts To Send After A Great First Date To Help You Land A Second
You don't have to wait for them to text you first.
Shutterstock
It can take a bit (or a lot) of trial and error to figure out your approach when you first enter the dating world. But once you finally land a great first date, what on earth are you supposed to text them afterwards? You walked away from the night feeling super smitten and want to let them know you're totally down for round two — without scaring them away. Texting after a first date is tricky, and it's easy to over-analyze what to say, so it's not a bad idea to keep some solid text ideas in your arsenal.
For some, it can be tempting to play hard to get and pretend like you're not that interested. While this is definitely a strategy some people swear by, transparency can be refreshing when you're meeting someone new. If your date is into you, they'll be pumped to know you want to see them again. And if they're not feeling it? You'll get the hint much sooner by being honest about your feelings. So, texting after a first date can be a great way to find out where someone stands.
But when, exactly, is the best time to text someone after a great first date? "There really is no ideal time to text because our decision-making process, fear of rejection, and our need for validation varies based on personality, age, and desire for a healthy relationship," says relationship coach and behavioral scientist Clarissa Silva. "That second date is just the beginning of figuring out if you both are compatible."
While there are no hard-and-fast rules, consider waiting until the next morning. Assuming you both had a good time, allowing a night for processing can give you both the chance to get amped up. Letting them question if things went as well as they thought, followed by positive reinforcement the next morning, shows you're interested but not overly eager. But if your date sends you a cute goodnight text, don't hesitate to respond when you receive it.
Relationship expert Susan Winter tells Elite Daily that a blend of confidence and warmth is important with new connections. "We need to show interest to encourage forward movement, but we do so with delicacy and taste," she says. "We can open the door, but we're not going to drag them through it. That's on their end — the best we can do is show a willingness to keep the interaction going."
As for what to text after a first date, here are eight ideas that'll let them know you're definitely interested in seeing where things could go.
While obsessing over how to move from a successful first date to a second date can feel unavoidable, sometimes it's helpful to remind yourself not to get too caught up in playing it cool. Texting can already feel a bit cold and distant as is. After all, it takes some serious confidence to be vulnerable and put yourself out there — and that confidence can be so attractive.
Experts:
Susan Winter, relationship expert
Clarissa Silva, relationship coach, behavioral scientist
This article was originally published on