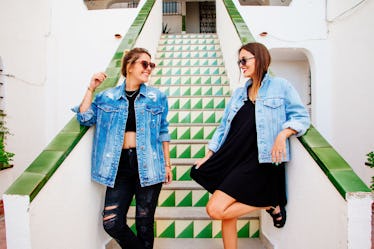 4 Confidence Coaches Reveal How To Ask Someone Out Smoothly
Asking someone out on a date can seem nerve-racking and intimidating, which can make approaching someone with confidence really difficult. This is totally understandable. You may fear rejection (which, who doesn't?) or simply just feel nervous about putting yourself out there. That's why knowing how to ask someone out smoothly and confidently can be so helpful. I spoke to four confidence coaches, and they all had incredible bits of advice for asking out that special someone.
First and foremost, it's important to give off good vibes. "Humans are wired for mimicry," confidence coach Susie Moore tells Elite Daily. "So, if you put out positive, self-assured energy, the person is more likely to respond positively, too." Even if in the end they don't respond the way you wanted, try to remind yourself that just because it didn't work out with this person, doesn't mean it won't work out with someone else. "Confidence comes from doing things that feel scary, not from just getting good results," Moore says. "So, go for it! And remember — all outcomes are good." The next time you're going to ask someone out, use some of these tips to help you put forward your smoothest and most confident self.