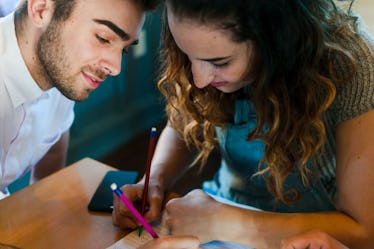 3 Reasons To Ask Out That Cute Person In Your Class & Get An "A" In Flirting
Asking someone out on a date can be intimidating. When it comes to shooting your shot, you might as well give it a try. In the words of Wayne Gretzky, "You miss every shot you don't take." If you want to ask out someone in class, there are some surprisingly great reasons to do so. For instance, Facebook Data Sciences reports that 28 percent of married college graduates went to the same school as their spouse and 15 percent went to the same high school. This is great news for you if you've been crushing hard on the cutie that sits next to you in history class.
Asking someone out at a party may seem easier than doing so before class, but you could get distracted and forget to make concrete plans with them. Asking after class is a great time to schedule something concrete because you're both more alert. In class, you can also drop the suggestion in a conversation about homework or go the old-school route and pass them a note. If you want to ask your class crush out, but you're nervous, check out the following reasons why it might just work!