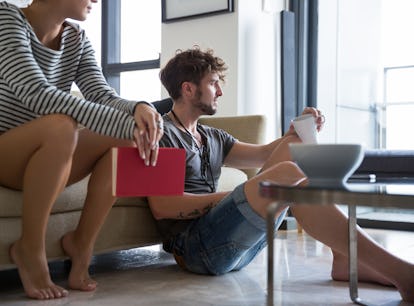 If You're Arguing Early In Your New Relationship, Do These 4 Things Before The 3-Month Mark
These healthy communication tips can help your love grow.
Arguing with your significant other isn't necessarily unhealthy. There isn't an approved list of fights that are "normal" to have, or specific topics you should be concerned about disagreeing with your partner on (because let's be real, you're never going to agree on everything). In fact, what you're actually fighting over is less important than how the two of you resolve conflict. Fighting early in a relationship doesn't mean you and your significant other are doomed, but there are some important decisions to make together in the first few months of dating to ensure you're both on the same page.
I spoke to two experts about the kinds of fights you should work through at the beginning of your relationship, how to have productive arguments, and signs your conflict style may not be as healthy as it could be. Arguing early in a relationship isn't always a red flag, but it is important to take these four steps before you reach the three-month mark. The sooner you learn how to talk through the big stuff, the better off you'll be when tough topics inevitably come up.
If you're struggling to communicate effectively with your new partner, don't panic. Conflict is never easy, especially with someone who makes you feel all warm and fuzzy just by glancing your way. Here is everything you need to know to get through the first fights of your relationship — plus, strategies for working through new conflicts as your relationship continues to progress.
If you feel like everything is an unproductive fight — if you're always raising your voice, calling each other names, or feeling forced to walk away — pause and think about whether this is a good relationship to stay in. "How you manage conflict says so much about the dynamic in the relationship," says Shirey. "It's not relevant how much you're fighting, but how you're fighting." Even when the conversations get heated, you should feel like they're ultimately bettering your relationship. If not, this might not be the person for you.
Experts:
Vienna Pharaon, licensed marriage and family therapist in New York City
Meredith Shirey, couples therapist and founder of a private counseling practice in New York City
This article was originally published on