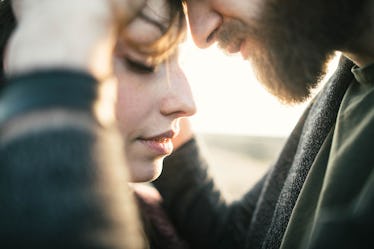 This Is When You'll Know Your Relationship Isn't Healthy, According To Experts
One of the biggest lessons I learned from being in an unhealthy relationship is that you don't always recognize how bad the relationship is until you're out of it and you can reflect back on it. That's because, all too often when your relationship isn't healthy, it's something that developed slowly and subtly over time. While sometimes an unhealthy relationship can be really obvious, it can also be a situation where you have a sort of low-grade emotional fever. Something is off, something doesn't feel right, but you can't quite understand why. This is no way to love. You deserve a happy and healthy relationship, period. So, if you sense something has gone awry in your relationship, it's time to examine that and find out why.
But what exactly is an unhealthy relationship? "It means that the foundational components of your relationship aren't fostering your best interest," NYC relationship expert and love coach Susan Winter tells Elite Daily. "Who you must be, in order to be in this relationship, is not good for you. The choices you make —or feel that you must make — are not good for you," she adds
According to Dr. Patti Feuereisen, a psychotherapist specializing in sexual abuse and author of Invisible Girls: Speaking The Truth About Sexual Abuse, the easiest way to recognize an unhealthy relationship is to compare it to what you consider to be a healthy one. "First it is really important to define how you feel healthy," Feuereisen tells Elite Daily. "Do you feel healthy when you don't skip the gym and have your workout, when you are creative, when you follow through with friends, when you have self care, when you excel at work, when you get out and go to places on your list? If those are signs that you feel healthy then let's look at your relationship." If the feeling you have in your relationship falls short to the feelings you have when the healthy parts of your life make you feel good, then it's time to be honest about how healthy your relationship actually is.
While these are helpful guidelines, there are also some specific behaviors the experts say you should pay attention to, and, if they resonate, you'll know your relationship probably isn't a healthy one. Here's what to be on the lookout for — and what to do about it.