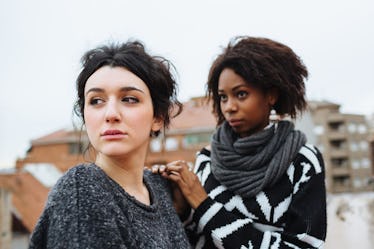 Here's The Simple Math Trick To Figure Out If You & Your Partner Fight Too Much
If you've ever gotten into a cycle of fighting a bunch with your partner, you know how exhausting it can be. Hours get wasted on ugly-crying, or throwing and receiving verbal jabs. It's a huge suck of emotional and physical energy — especially when there are bills to pay, schoolwork to finish, and a whole life you've got to live outside of your SO. If you do find yourself bickering with bae a lot, you might be asking yourself: Do you fight too much with your boyfriend or girlfriend? Yes, some conflict in relationships is healthy and to be expected. That's how you and your partner can solve problems together. And realistically, once you graduate from the honeymoon phase, you will argue with your partner every now and then. That's perfectly OK.
But there a comes a point where the arguing feels like a lot. Sometimes, it's hard to tell if you're just hitting a rough patch or if you're now finding out you and your partner are just incompatible. Either way, it sucks. The best way to start moving forward, however, is to assess the root of all your arguments, whether there's resolution in sight, and how you can proceed from there. Here are some key signs that you and your partner are fighting too much, and what you can do about it.