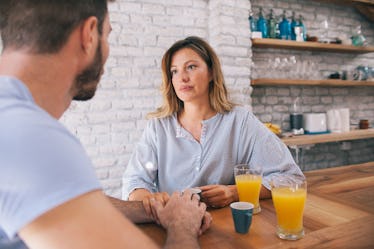 Experts Explain The Difference Between Fighting & Arguing, & What It Says About Your Love
Have you ever been in a tiny tiff with your partner that all of a sudden turns into a giant blowup? The shift in energy is palpable. If so, then you already instinctively know the difference between fighting and arguing — it just feels different. The stakes are different, the purpose is different, and the way you feel afterward is very different. But why? What separates two things that can outwardly appear similar, but are, in reality, so very different? As it turns out, if you feel like fighting and arguing aren't the same thing, you're right. One definitely bodes better for the health and longevity of your relationship, so knowing the difference is really important if you want your relationship to both last, and be a healthy one for both you and your partner.
To help define the difference between an argument and a fight, I turned to the experts: Dr. Gary Brown, a prominent couples therapist in Los Angeles, and Diana Dorell, intuitive dating coach and author of The Dating Mirror: Trust Again, Love Again, to get their take on how to tell a fight and an argument apart. They also explained what it means for your relationship if you fight more frequently than you argue, and what you can do to change it. Here's what they had to say.