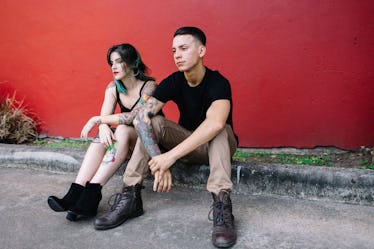 4 Signs Your Relationship Is Worth Fighting For, Even If You're In A Rough Patch
If you've ever wondered if you and your partner have what it takes to make your relationship last, you're not alone. Even though ups and downs are a normal part of every relationship, being able to recognize the signs your relationship is worth fighting for can help you make it through the rough patches. Solid relationships can often be hard to come by, so if you know you've still got a strong foundation, weathering the storm might be the right decision.
According to prominent couples' therapist Dr. Gary Brown, encountering issues doesn't necessarily mean it's time to call it quits. "It's important to understand that even in the best of relationships, there are going to be hard times," Dr. Brown previously told Elite Daily. "Issues around the distribution of power, expressions of love or the lack of it, money, sex, social priorities, dealing with friends and family, as well as job and career issues impact just about all couples." We are all human, after all. But despite these issues, there are certain relationship elements that could mean the partnership still has strong potential. Here are some valid reasons to keep working on things, even if you encounter some bumps along the way.