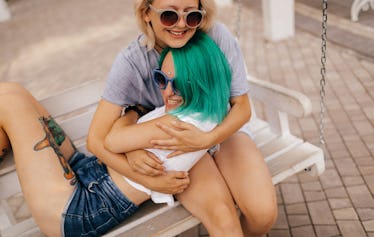 5 Signs Your Relationship Will Last, Because You & Bae Are Endgame
How confident are you that you and your partner are in it for the long haul? Does it seem like they really are the one, but you just want to be totally sure? After all, it's not always so easy to just open up your heart and be vulnerable in that way. Good news: According to relationship experts, there are some clear signs your relationship will last, because you're on the right track and you've found your person. You just need to know what to look for.
Dr. Rebekah Montgomery, a clinical psychologist specializing in relationships and helping couples prepare for marriage, previously told Elite Daily the first step is learning to trust your own gut instincts. "Knowing if someone is the one is often about learning to hear your own inner voice and trusting your judgment," explained Dr. Montgomery. "We know when something feels healthy and right." That's definitely a good start, but there are also several more ways to confirm that you and your partner are truly on the right track, and that the relationship won't be going anywhere anytime soon. Here's what the experts consider signs that your relationship has what it takes to go the distance.