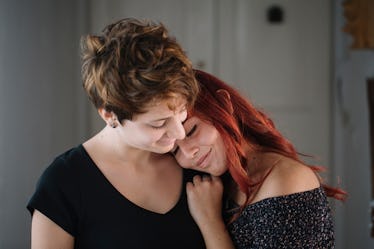 8 Signs You've Found A Partner Who Will Always Stick By Your Side, No Matter What
They say when it comes to love, you know when you know. The real deal just feels different. It's so exciting, but also a little bit scary because it means your heart is truly vulnerable. It's even more scary if you can really see a future with this person. Maybe you haven't really discussed what the next 10 years look like, but that's OK, because the only real way to know if your partner will love you forever is in the way they behave toward you — and, even more importantly, in how they treat you.
What can make this tricky is that there are a lot of behaviors that may seem like forever love at first, but aren't. For one thing, you should always be wary of anyone who tries to love-bomb you right away, says matchmaking and dating expert Stef Safran, because if "someone tries too hard to and comes on too strong, this could be a sign you are dealing with a narcissist."
And of course, there's the sign of what we think is forever love we've all fallen prey to: white-hot sexual chemistry. "One thing sexual chemistry does is build intimacy and nakedness (in the most literal sense)," Michal Naisteter, matchmaker at Three Day Rule, tells Elite Daily. She also added that intimacy is not the same thing as love.
So then, what does "forever love" behavior actually look like? Here's what behaviors the experts say you should be looking out for to know if your partner is truly in it for the long haul.