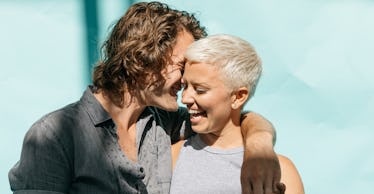 3 Subtle But Significant Signs The Person You're Dating Thinks You're "The One"
Ashley Batz/Bustle
When you're in a long-term relationship with your partner, you could be wondering if they think of you as "their person." As Grey's Anatomy puts it, your person is someone who completely gets you. It's the person you go to for support, love, and generally the one who completes you. In the show, it describes BFFs Meredith Grey (Ellen Pompeo) and Cristina Yang (Sandra Oh), but it can be applicable to a romantic relationship as well. Your "person" is "the one." So how do you know if your boyfriend or girlfriend thinks you're "the one"?
Well, there could be plenty of things they do, say, and show to indicate how they value you in their life. There could be small and big things they do to show you that you're it for them. They could write you love letters à la Peter Kavinsky. They could merge their Google Calendar with yours so you can schedule your life together more easily. You're their person.
I spoke to Dr. Danielle Forshee, licensed clinical social worker, to determine the signs, actions, words, and ways your partner treats you that could indicate they think you're the one.
Here's what she had to say are signs your partner absolutely, without a doubt, think you're "the one."