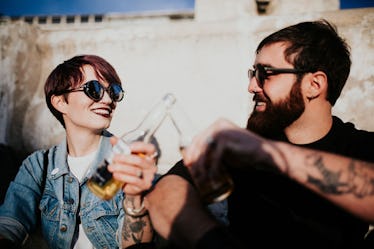 Here's Why The End Of The Honeymoon Phase Isn't A Bad Thing
My partner and I have been together for over a decade, so we're way past the honeymoon phase. But don't feel bad for me, because honestly, I'm not mad about it. People often worry that keeping the honeymoon stage alive is crucial to relationship success, but what they don't realize is that the other side of that phase is actually, in some ways, so much better. It's not until the honeymoon phase passes that the relationship really starts to get real, and that's just one of the reasons why the end of the honeymoon phase isn't bad. In fact, it's pretty darn awesome.
Now, don't get me wrong — I get why people love that period of not being able to get enough of one another. It's all new and exciting and really special, and you think, "Wow, this is love!" But with time and comfort, that newness starts to fade. But that doesn't mean you're falling out of love! This is actually where the real love, the deep connection, and the test of whether or not you're really meant to be begins. In other words, the good stuff comes after the honeymoon phase, and here are just some of the reasons why.