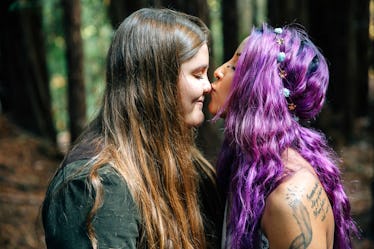 If You & Your Partner Never Show PDA, Here's What It Means About Your Relationship
Judging on my past relationships, I'd say I'm not into PDA. Like, at all. In high school, I hated when my boyfriend would try to get me to sit on his lap or side-hug when we were out with friends. I vividly remember intentionally sitting across from him or walking ahead at all times just to avoid what I felt was an uncomfortable and unnecessary display of affection.
Looking back, I'm certain I was in the minority when it came to my anti-PDA views, since some of my Catholic school classmates spent their time after school getting scolded for making out in a nearby shopping center. Did I not like PDA because I wasn't not cool enough? Or had I just not met the right person?
Why is it that even now, in my 20s, I cringe when I see a couple posted up on the wall of a nightclub, going at it like the other person's face is a dollar-slice of pizza?
I asked Lisa Mitchell, body language expert and founder of Power Body Language, what your PDA levels say about your personality and your relationship. Thankfully, she acknowledged that there are tons of people who feel the way I do about an outdoor make-out sesh. Each person is entitled to define their own rules for PDA, in and out of a relationship. Here's what your preference says about you.