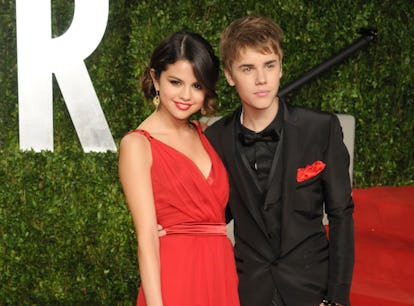 10 Celebrity Exes Whose Shady Breakup Drama Gives Me Life
Gregg DeGuire/FilmMagic/Getty Images
When a celebrity couple decides to end things, they typically try to keep the drama out of the public eye — at least, at first. Whether they make their breakup announcement on Instagram or through their representatives, the statement usually involves at least a few mentions of them staying friends and wishing each other the best. And although the attempt to keep things cordial is definitely admirable, it's not always realistic. Celebs — they really are just like us!
It's not exactly a surprise that sometimes, these A-lister exes let their shadiness get the best of them, and they can't help but publicize their breakup drama. (You can blame social media.) Whether it happens via heated Twitter battles, petty interview comments, or even shady song lyrics, these celebrities have no shortage of ways to put their exes on blast. Is it bad if I say that their creativity is honestly kind of inspiring?
A lot of times, it feels like they are just giving the fans exactly what they want: piping hot tea. Now I can only speak for myself, but I'm very thankful. So it's no chore to round up the shadiest moments between celebrity exes. Grab a mop, this list gets messy.
Although I'm always rooting for these exes to eventually find their own form of closure and become platonic friends, the dramatic back-and-forth is definitely entertaining in the meantime.