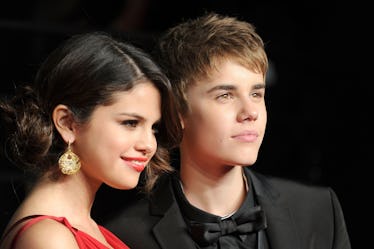 The Timeline Of Selena Gomez & Justin Bieber's Relationship Will Make You So Emotional
Pascal Le Segretain/Getty Images Entertainment/Getty Images
Selena Gomez is like the girl next door – you know, if the girl next door was talented and beautiful and ultra-famous – so it's no wonder why Justin Bieber is clearly making moves since her recent breakup from The Weeknd. And think what you want about their on-again, off-again relationship: it's obvious that there were (and maybe still are) some really deep feelings between the two. Whether you ship them or not, they were once a dynamic duo who stole the hearts of tweens (and, let's be honest, people way older) pretty much everywhere. So when piecing their lives together, the timeline of Selena Gomez and Justin Bieber's relationship will really give you pause. It's like a roller-coaster ride that's exhilarating and exhausting to be on, and can get so insane that maybe you throw up in your mouth a little bit. But when it's over, you can't help but go and wait on line for another hour just to do it again.
So whether Selena and Justin are back on for just a minute or an entire lifetime, let's all take a moment to appreciate the couple that caused more emotional ruin than Ryan Gosling and Rachel McAdam's characters did in The Notebook.
It all started back in 2009, when Gomez and Bieber first met, when the two were nothing more than a couple of fetuses. Bieber took to Twitter to publicly shout out Gomez, and, as with all social media posts from a decade ago, included a ~flirty~ wink-face emoticon.
Scandalous!
So in 2010, when the pair were spotted together at an IHOP, Gomez quickly shot down any rumors that the two were an actual item. "It was pancakes! Oh my gosh!," an 18-year-old Gomez told US Weekly.
You mean to tell us that there's no romance sizzling when there's some Rooty Tooty Fresh 'N Fruity® Pancakes on the table? Everyone knows those are the ultimate aphrodisiac, Selena!
But she stuck to her guns, saying that Bieber is "one of my best friends…It was just pancakes!"
Mhm.
Flash forward to January of 2011, when the "friends" were spotted having a "friendly" kissing sesh in St. Lucia and seemingly confirmed their rumored relationship when they showed up together at the Vanity Fair Oscars After-Party, looking all sorts of adorable and young and in love.
Look at these babies! So happy. So smiling. So smitten.
A few months into their romance, Bieber pulled out all the stops and rented out L.A.'s Staples Center for him and Gomez so that the two could watch Titanic all by themselves – because, honestly, watching that movie at your parent's house runs the risk of someone walking in on that one sultry scene.
That's right, men. All we want is for you to love us, give us attention, and spend thousands of dollars so that we can watch a movie on a gigantic screen. Is that so much to ask for?
But every relationship has to have its first road bump, and just a month later, in November of 2011, the couple faced their first public hardship when a woman named Mariah Yeater claimed that she was pregnant, and that Bieber was her child's father. Bieber adamantly denied the claims, and addressed the false pregnancy rumors to People Magazine:
I know that I'm going to be a target ... but I'm never going to be a victim.
Though the paternity suit was later dropped, I can't imagine this didn't cause a rift for the couple.
Things seem to have headed uphill in February 2012, though, when Bieber surprised Gomez with a diamond-studded ring in the letter of a "J," sparking rumors that the couple were engaged. But then people realized that Bieber was still a teenager, so a proposal probably wasn't likely – and, personally, if I received an engagement ring in the shape of my boyfriend's initials, I'd be low-key annoyed. I can't imagine Selena would feel differently.
The couple then had a rocky few months: starting in May of 2012, the couple called things off, then back on again in December. But in January of 2013, a cryptic tweet sends "Jelena" fans scurrying:
The rumors were confirmed by Gomez herself in March of 2013, when she went on to the Late Show with David Letterman and announced she was no longer dating the Biebs:
No, I'm single. I'm so good.
When Letterman admitted that when he had Justin Bieber on air previously, he said something that made Bieber cry. Gomez quipped, "well, that makes two of us."
DAMN, GIRL.
Pretty harsh, considering Bieber went on air with Power 106 FM just a few months earlier to basically tell the world how their breakup deeply affected him:
[The breakup] affected us, especially when we are in front of so many people ... It's such a public thing. It's just hard for the both of us. But you know, she's a great woman. I love her [to] this day.
But Gomez couldn't stay away for long (maybe because of his smooth-talking skills?), and throughout the rest of 2013 and into the beginning of 2014, the pair were rumored to be back on again, though there was no official confirmation – unless you call cuddly Instagram posts "official."
Seems like Selena just can't keep her hands to herself! (Sorry you guys, I had to.)
But as quickly as we go uphill with these two, we go all the way back down. Flash forward to November of 2014, when Gomez revealed on air that her song, "The Heart Wants What It Wants", is about Bieber. And the lyrics make it pretty obvious that the two are in a pretty tumultuous state:
You got me scattered in pieces
Shining like stars and screaming
Lighting me up like Venus
But then you disappear and make me wait
And every second's like torture
Hell over trip, no more so
Finding a way to let go
Baby, baby, no I can't escape
Sadness. These two just can't seem to get it right.
Publicly, they went their separate ways, with Gomez having a brief fling with Zedd, and Bieber having a rumored relationship with model Hailey Baldwin – although he shut the rumors down, claiming they were just friends.
So fans were arguably shook when TMZ caught Gomez and Bieber together in January of 2016. But, sigh. Apparently, this wasn't cause for celebration, and neither of the two commented on the matter.
Just having a casual breakdown over here, NBD.
Bieber turned heads when he posted a throwback photo of him and Gomez in March of 2016, causing fans to speculate that the two were back on.
But LOL, I guess it was just Bieber wanting to relive his glory days, because the two were NOT a thing at this point. Can we look at how many 'likes' this post received, though? Your girl can barely get in double digits over here, and these two are cashing in on millions. Life is so unfair.
At that point, the two were clearly not an item; Bieber reportedly started to date Sofia Richie in August of 2016 (when Gomez threw major shade), and in January of 2017, Gomez started her relationship with The Weeknd (where Bieber justifiably throws shade right back at Gomez).
But you know what they say – if you're bitter over an ex, it's probably a good indicator that you might still be harboring some feelings for them. But hey, that's none of my business.
So that brings us to October of 2017, when TMZ caught Gomez and Bieber having breakfast together, and reportedly having hang out sessions at Gomez's house, sans The Weeknd. While I'm a believer that it's possible for two people who have dating previously to be strictly friends, I'm not so sure that's what was going on here, 'cuz just days later, People reported that Gomez and The Weeknd had broken up.
Many people found the timing, erm, suspicious.
Gomez and Bieber were then spotted riding bikes together, looking happy AF, and then yet again at Bieber's hockey game, where Gomez wore his hockey jersey and apparently cheered him on from the stands.
Call me crazy, but those activities seem like something a BOYFRIEND AND GIRLFRIEND would do together, no? Adding fuel to the Jelena fire: a source confirmed to Us Weekly that Selena Gomez and Justin Bieber are reportedly back together in early November.
It's kind of endearing when a couple that has this much history together tries to give things another shot, so honestly, I think that this could be a good thing. But until we get confirmation from either of the two, we'll just have to keep hoping, praying, and Belieb-ing.