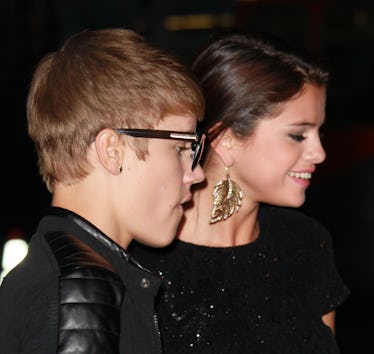 Selena Gomez & Justin Bieber Spent All Weekend Together At Church, So That's A Lot
David Livingston/Getty Images Entertainment/Getty Images
It's been a weird month for our main girl Selena Gomez. News broke in late October that she and long-term boyfriend The Weeknd were calling it quits, leaving their fanbase a little bit like, "Huh?" After what seemed to be a relationship made in attractive, young people music heaven, the two went public with the news about their breakup. Since then, both The Weeknd and Gomez have quickly gone their separate ways... and now, Gomez is suddenly and aggressively hanging out with her other ex. Recently, a video of Selena Gomez and Justin Bieber at church hit the media waves, leaving everyone with even more questions to ask.
According to Cosmopolitan, Gomez and Bieber attended two services in one weekend — one on Friday night and one on Saturday morning. In the video, Gomez is seen exiting the building first and stepping into a fancy vehicle with tinted windows, quickly followed by Bieber. Objectively, they look like they are coming from two different places, as Gomez is rocking a sophisticated black ensemble with heels and Bieber is sporting a sweatshirt and basketball shorts.
Their pastor, Carl Lentz, whom Bieber has outwardly praised and adored, doesn't mind their attire. He told the AP, "Jesus didn't put on any fronts. [He] didn't try to be anything other than who he was."
Hm, no arguments here.
The video can be found in the link above from the Daily Mail.
Sources told People magazine that Gomez's decision to rekindle the flame with Bieber had nothing to do with her breakup from The Weeknd, but damn, is the timing suspicious.
Gomez has also kept fans on their toes, stepping out in both The Weeknd's jacket and Bieber's jersey in the immediate days following her breakup.
Friends of Bieber told Elle magazine he knows he has a lot of making up to do if he truly wants Gomez back.
One insider put it,
Justin is aware Selena's family is not thrilled they are hanging out. They think he caused Selena a lot of grief. Justin hopes he can prove to them that he has changed.
The friend added,
He has changed a lot in the past few months. He is a very different person. They [Selena and Justin] have a lot to talk about and are having fun catching up.
"Change" has been the name of the game for Bieber, hence all the church visits.
After canceling his world Purpose tour, Bieber reportedly has been taking time to work on himself, his mental health, and reconnecting with his spirituality. Insiders told People magazine that he is "doing much better."
One source said,
It has been a process, but he's doing so much better. You can talk to him and see that the old Justin is coming back. He seems happier, more energetic. It's encouraging. He's not completely there, but he's definitely on his way.
Bieber let fans in on his journey with a personal post on his Instagram account after announcing the end of the tour.
He wrote,
... I have let my insecurities get the best of me at times, I let my broken relationships dictate the way I acted toward people and the way I treated them! I let bitterness, jealousy and fear run my life.!!!! I am extremely blessed to have people in the past few years help me build my character back up reminding me of who I am and who I want to be!!!.
... I've learned the more you appreciate your calling the more you want to protect your calling. Me taking this time right now is me saying I want to be SUSTAINABLE.. I want my career to be sustainable, but I also want my mind heart and soul to be sustainable.
Sure, going to church might not sound like the typical "date night" activity for most couples, but Justin Bieber and Selena Gomez never play by the rules.
We have our eyes on you two.
Check out the entire Gen Why series and other videos on Facebook and the Bustle app across Apple TV, Roku, and Amazon Fire TV.