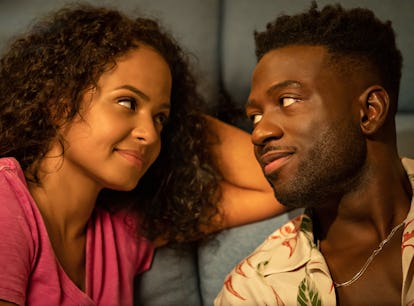 The Best Date Night Movies For A Cozy Night In With Your SO
There's something for everyone.
David Bloomer/ NETFLIX
Sometimes snuggling up with your SO at home on a Friday night just sounds so much more appealing than going out for dinner or a concert. After the snacks have been prepped and the wine poured, however, the question inevitably becomes: what to watch? There are a slew of date night movies to see on Netflix, and to make your life easier, here's a list of the very best flicks for a night in.
The challenge, of course, is finding a film that you'll both be into. I can't count how many times my partner and I have scrolled through the countless choices on Netflix, eyes glazing over — until finally, after wasting 25 minutes on our desperate search, we settle on another episode of our ol' trusty standby: The Office (neither of us, as it turns out, can say no to Dwight Schrute's antics). Fortunately for you, I've done some digging through the endless array of rom-coms, Oscar-winning dramas, eye-opening documentaries, action movies, and other genres to find those gems that just might appeal to both of you.
Whether you're looking for a LOL-worthy dramedy, a steamy romance, or a psychological thriller that you can discuss for hours after it's over, here are the best date night movies you'll want to add to your queue ASAP.
Love this list? Create a Likewise account to save these recs to your own watchlist and follow Elite Daily for more. You'll always know exactly what to watch next.
This article was originally published on