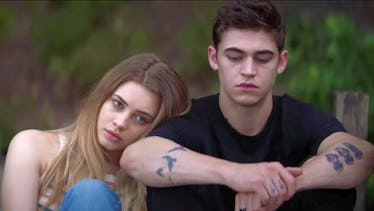 These 'After We Collided' Book Details Will Get You Ready For The Movie
Frayed Pages
From Chuck and Blair to Elena and Damon to Christian and Ana, fans love a mismatched pair, and Hardin and Tessa from After are no exception. The couple was introduced to fans in Anna Todd's novel by the same name, and later saw the duo on the big screen when the film adaptation was released in 2019. Now, in anticipation for the sequel movie to hit screens in October, here are some After We Collided book details readers are hoping to see happen in the next film installment.
Thought plenty of readers already knew what would happen in the first movie, seeing Tessa (Josephine Langford) and Hardin's (Hero Fiennes-Tiffin) on-screen chemistry was a gift to viewers everywhere. Since the first film — and book — ended on a pretty big cliffhanger, some fans might not be able to wait to see what happens to Tessa and Hardin in the movie sequel. Plus, the hot trailer with the epic shower scene and appearance by Dylan Spouse doesn't do anything to curb diehard fans' curiosity.
Spoiler alert: This post contains spoilers from the novel After We Collided. The book (and, presumably, movie) sequel starts as Tessa begins an internship at Vance Publishing. She just found out about the bet that Hardin could make her fall for him (which, in the film, is actually are dare). Naturally, she wants nothing to do with him, but Hardin continues to pursue her. In addition to Tessa's dreamy new co-worker, Trevor Matthews (played by Sprouse in the movie), some sparks with Zed (Samuel Larsen), and plenty of family issues to sort out, let's discuss some of the big moments from the book that just might show up on screen as well.