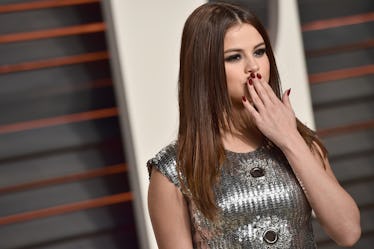 Here's Who Your Celebrity Best Friend Should Be, According To Your Zodiac Sign
Pascal Le Segretain/Getty Images Entertainment/Getty Images
I know I can't be the only one who scrolls through celebrities' social media accounts looking at all of their posts and thinking how we'd be the best of friends, if only they weren't so rich and famous. And each celeb's set of personality traits can really make you want to know them — or stay as far away from them as possible. But the interesting thing is that everyone feels a different way about certain celebs, and that's because zodiac signs help to unveil important elements about ourselves, and might have been secretly pointing you in the direction of who to become friends with your entire life. I know. Mind. Blown. Right? So, who would be your celebrity best friend according to your zodiac sign?
Now, I know we all wish that our zodiac would point us in the direction of becoming friends with someone like Beyoncé (because, obviously) or maybe someone like Chrissy Teigen (also because obviously), but there are some celebrities out there who you just know could be a lifelong friend of yours because your personalities would just mesh. You'd be like peanut butter and jelly, going together perfectly — only one of you is wealthy beyond measure and one of you is probably debating picking up a bottle of wine that's $11.99. (No judgement there.) So, scroll down and see which celebrity you'd be so compatible with, that if you ever met in real life, you'd hands-down become besties forever.
Capricorn
Your celebrity BFF: Taylor Swift
You might not be a Swiftie, and that's A-OK by Taylor. What matters most to you both is ambition and the drive to be successful in any arena you try to conquer. You're both hard-working, but want nothing more than to sit back and relax at the end of the day surrounded by your closest squad, and obviously your cats.
Aquarius
Your celebrity BFF: Lady Gaga
Aquarians view their friends as their most prized possessions in life, and have no problem going above and beyond for their homegirls. But you crave a friend who is just as quirky and creative as you are - someone like Lady Gaga. She's not afraid to give you that pep talk when you truly need it, or wear a dress made of meat, if, you know, that's your thing. Together, the two of you are fearless and unstoppable.
Pisces
Your celebrity BFF: Selena Gomez
You're a nurturing and sensitive friend, so you need someone who is just as sweet as you are. Girl, Selena Gomez is the answer to your BFF prayers. She's peppy and light-hearted, and stays true to the people she's close to — just like you, Pisces. You'll have the best time together, staying up all night, painting each other's nails, and talking about the Biebs.
Aries
Your celebrity BFF: Chrissy Teigen
You're an independent lady who doesn't take crap from anyone, and you try not to take life too seriously. You're basically destined to be friends with Chrissy Teigen, AKA the most hilarious person that's ever lived on social media. You're both go-getters who absolutely kill it in your work life, but during your downtime, you just feel like grabbing a bottle of wine and eating your day's worth of calories in Doritos with someone who can appreciate a good fart joke.
Slay, you two.
Taurus
Your celebrity BFF: Miley Cyrus
You're in touch with your sensuality, and you need a friend by your side who's not afraid to feel the same way. You and Miley Cyrus are two ambitious ladies who are quirky, but are still somehow very relatable. Sure, you might have some eccentricities, but Miley is there to tell you that, girl, that's what makes you so damn awesome! So go forth, you two, and be your best, sledgehammer-licking selves.
Gemini
Your celebrity BFF: Rihanna
You may be bad, Gemini, but you're perfectly good at it. Your dual-personality intrigues nearly everyone, never quite knowing what you'll do or say next. You're thoughtful and curious, but can go from silly to serious in seconds flat. With your friend Rihanna by your side, though, who is resilient and fierce, you won't be afraid to take things head-on. Imagine the two of you walking into a club together for a night out, decked out in all things Fenty Beauty? Werk it, ladies!
Cancer
Your celebrity BFF: Blake Lively
Oh Cancer, you sweet, loving, creature. You're an emotional and sensitive being who leans on friends for support, and you depend on a stable person, a là someone like Blake Lively. She's got a solid head on her shoulders and values friends and family just as much as you do. Picture it: You and Blake, hanging with daughters James and Ines, and Ryan Reynolds making some lemonade for the whole gang. I'll drink to that.
Leo
Your celebrity BFF: Mandy Moore
You've got a larger-than-life personality and have a tendency to be the life of the party, no matter the cost. You need a pal like Mandy Moore, who will help keep you balanced and help keep your feet on the ground. She'll always be loyal and honest, and has no problem putting you in your place when you need it. Can you picture it now, just you and Mandy, singing along to the radio? Seriously though, Leo, stop singing. Let Mandy do her thing.
Virgo
Your celebrity BFF: Kristen Bell
You're always looking on the bright side of things, and you can't imagine being friends with someone who doesn't share your optimism, which is why Kristen Bell is your go-to girl. She's compassionate like you and understands the hardships of life, but chooses to smile through it all. Whether you're making a lip syncing video to Toto's "Africa" or surprising each other with furry animals, you know that a friendship like yours is forever.
Libra
Your celebrity BFF: Jennifer Lawrence
Libra, you've struck friendship gold. You're a people-person through and through, and crave someone by your side who is just as social as you are. Your gal pal J-Law will not only be the center of attention everywhere she goes, but she'll take you with her on the way to the top, because she's a ride-or-die kind of friend. You'll both love having a spontaneous night out, and laugh when it ends up with one of you falling flat on your face, because you both know not to take things all that seriously.
Scorpio
Your celebrity BFF: Beyoncé
No, Scorpio, this isn't a dream: Queen Bey totally wants to be your best friend! That's because you're both driven to rise above it all and come out on top. You can both be emotional at times, but have each other to lean on for support when you need it, or to celebrate your success when you achieve greatness (like when your birthday basically becomes a national holiday or something). Together, you're like a two-woman show who will make heads turn no matter where you go – but that's probably because of Bey, TBH.
Sagittarius
Your celebrity BFF: Bella Hadid
Your strong desire for learning and exploring makes you and Bella Hadid great friends, since your biggest fears in life are boredom and staying stagnant. You can sometimes take things too seriously, though, and Bella is here to help you keep things light-hearted when you seem to be falling down the pessimistic rabbit hole. Her honesty and wit will lift you upwards to new heights – and those new heights might just mean an invite to her next Victoria's Secret Fashion Show. Score!