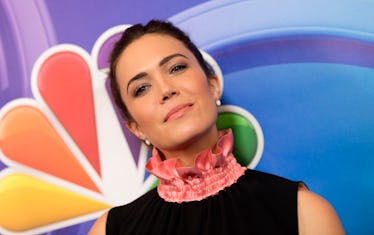 Mandy Moore Get Real On Her Teen Years & Reveals She Missed An 'Important Chunk' Of Life
VALERIE MACON/AFP/Getty Images
It's no secret that This Is Us goes hand in hand with tissues. The moving sitcom, now in its second season, continues to elicit waterworks, just like its stars. Mandy Moore discussed her teen years in a recent interview, and her "roller coaster of unknowns" will turn you into a roller coaster of emotions.
The 33-year-old actress sat down with People to discuss those awkward years. But unlike most of us, Moore's high school days weren't comprised of SAT practice tests and prom committees. At a tender age, she was releasing Billboard hits and touring with *NSYNC and the Backstreet Boys. According to the interview, she said,
It was such a roller coaster of unknowns that I was not entirely prepared for in a way. I went from high school watching MTV in the morning to having my own music video and record. I can't believe I'm still plugging along, to tell the truth!
Though grateful for her opportunities, Moore did feel as though her career interfered with typical teenage milestones. She continued,
I do feel like I skipped an important chunk of my life. But I always wrote it off like, well I have a different trajectory. I didn't go to prom; I went to a movie premiere instead. It was just different. I know I missed going to college and parties and the sort of social aspects of being a young person, but I had every opportunity to experience that in an adult way in a more adult setting.
Despite any hard feelings, Moore puts a positive spin on her experiences, and fans have to give her credit for her outlook. She is certainly not one to shy away from the truth, just because the topic is difficult to discuss. Just take a look at Moore's recent interview with the Huffington Post where she touches on therapy.
Rather than focus solely on her work, the actress and singer uses her media opportunities as a way to give fans an insight about her life. You cannot help but love her honesty and feel a sense of relief that she is so vulnerable. During her talk with HuffPo, Moore commented on therapy and said,
I feel like it's most beneficial at times when I don't think that I need it, like when there's not a ton going on that feels stressful.
It's powerful when women, particularly celebrities, shine light on imperfections and reveal to fans that they do have struggles, just like everyone else. But — despite those struggles — Moore is willing to face her demons head on. The most recent issue? Body shamers. Rather than feed into the hurtful comments she received during her Jimmy Fallon appearance, Moore decided to hone in on how great it was to see the late-night host... and took the opportunity to radiate positivity.
Love any time I get to hang with the sweetest @jimmyfallon on @fallontonight. Watch us at 11:35 on @nbc!! And ps: I am 5'10 and a size 6. I have NEVER photoshopped pictures. That's not what I'm about. If you're going to be rude about people's bodies, go elsewhere.
Miss Moore, don't let any naysayers get you down. We are 100 percent here for your honesty and positivity. Thank you for inspiring women everywhere to embrace their experiences and use them as an opportunity to grow.
Since you undoubtedly have a tissue or two at hand after reading these interview tidbits, keep 'em handy for the next episode of This Is Us... odds are you're going to need them.
Check out the entire Gen Why series and other videos on Facebook and the Bustle app across Apple TV, Roku, and Amazon Fire TV.