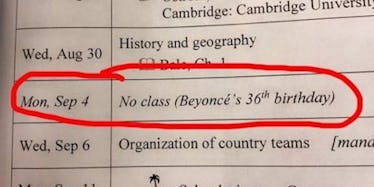 Teacher Cancels Class For Beyonce's Birthday And Becomes A Hero On Twitter
There are members of the Beyhive in almost all trades around the world. Odds are a lawyer, a doctor, or even a teacher has angrily left bee emojis on the social media accounts of those who dare disrespect Queen Bey. But it isn't all negative. Beyhive members also take certain holidays very seriously, like this teacher who cancelled class for Beyonce's birthday.
That's right, folks: A teacher's syllabus has gone viral because — aside from having important test and class trip dates on the syllabus — they've listed Monday, Sept. 4, as a day off due to the fact that on that day 36 years ago, Beyonce was born. Those who aren't members of the Beyhive will recognize Monday, Sept. 4 as Labor Day, but obviously, these people do not have their priorities in order.
The hilarious tweet was posted to Twitter on Aug. 29, and since then, the post has gone insanely viral with over 25 thousand likes, nine thousand retweets, and countless hysterical comments from other members of the Beyhive — who like this teacher — probably would've done the same thing.
See the tweet below and try not to relate to it too much.
"Me as a teacher when I give my students the class syllabus."
Honestly, I would've given the entire week off if I were this teacher.
"Needs to say 'no work'"
The syllabus may not say "no work" but there's also no work on this day.
"So I guess I'm going there for uni..."
If I were still in school, I'd definitely look for this teacher.
"I LOVE THIS."
"Queen of teaching."
Someone get this teacher a crown!
Having this day off in the name of Bey will totally compensate for the fact that she didn't make an appearance at the VMAs. We can take this day and binge watch Lemonade and finally memorize that choreography.
Happy Bey day!