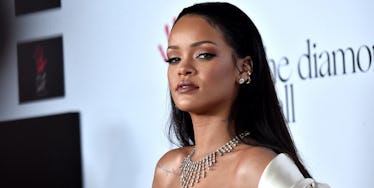 Rihanna's Fenty Beauty Line Looks So Fierce, The Entire Internet Is Having Wild Thoughts
Getty Images
Ever since the announcement back in 2016, diehard fans have barely been able to control themselves when thinking about where to buy Rihanna's Fenty Beauty, the singer's upcoming makeup line. Casual fans (if they exist) may not have been aware that Rihanna, aka Robyn Rihanna Fenty, is about to launch a massive color cosmetics collection at Sephora. But thanks to a little thing called social media, the entire internet is now having wild thoughts over the line. Over the Labor Day holiday, Fenty Beauty dropped a one minute, 15-second-long promotional video full of sly glances, glossy nude lips, and golden shimmering lids. Of course, the video showcases a whole lot of RiRi's signature sweet sass — but it's not what you think.
Because she's such a dream girl, Rihanna harnessed her platform to allow other women to shine. Save for seeing her on a billboard and a quick smile at the end, she's not even in the video. The airtime is devoted to a diverse group of seriously stylish women, sporting almost every hairstyle imaginable, as they slay, strut, and apply lip gloss in car mirrors. Immediately, fans came out to praise the portrayal as a celebration of often underrepresented beauty. It didn't take long for some, bolstered by the empowering preview, to compare Fenty to particular lip/contour kit empires from certain other female public figures. (Spoiler alert: the Kardashians.)
After the inclusive video hit, fans naturally began wondering about the shade offerings. On Instagram, the "Wild Thoughts" singer replied to a fan wondering if the rumored 40-shade foundation lineup was fact or fiction: "You knooowwww it! Gotta represent for my girls and we come in all shades! Especially my brown sisters… been left out too many times in the makeup world." To put 40 different foundation colors in perspective, note that 20 is usually considered "all-encompassing." People who struggle to find their perfect foundation may find love in a hopeless place with Fenty.
What else do we know so far? The collection boasts glimmery powder eyeshadows named Ginger Binge, Trophy Wife, and Moscow Mule, and every product is cruelty-free.
Beyond ready to get your fingers on Fenty? Set an alarm. The line officially drops at midnight PT on Sept. 8, on Sephora and FentyBeauty.com, and who knows how quickly it will sell out. Based on the reaction thus far, the internet is about four, five seconds from wildin'.