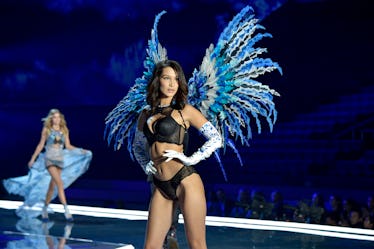 Bella Hadid Had A Nip Slip At The VS Fashion Show & Kept Slaying It Anyway
Matt Winkelmeyer/Getty Images Entertainment/Getty Images
If you think a supermodel is going to be rattled by a little wardrobe malfunction on one of the world's largest runways, think again. Bella Hadid's nip slip at The Victoria's Secret Fashion Show didn't even register as a blip on her radar, as she kept it moving and gliding in a seriously stunning silver brasier. In fact, she smiled the whole way through it.
This year marks Hadid's second Victoria's Secret Fashion Show, an achievement she is more than thrilled to attain. Last year, Bella walked with her sister, Gigi Hadid, and friend Kendall Jenner, but both were missing on the runway this year. For Bella, the VSFS just adds one more modeling notch to her impressive, metaphorical career belt, and she looks like a literal angel.
Hadid announced in August that she'd be appearing in this year's show by delivering us a smoldering photo on Instagram. In her caption she wrote,
@victoriassecret I am so excited!..!!!!Thank you @monica.mitro @10magazine @johndavidpfeiffer and of course the wonderful, incredible @ed_razek + everyone on the team for making this dream come true again.. I feel so crazy humbled to get the opportunity to be a part of this show again...Walking into the offices this year i felt so happy, healthy, and honored.. I can't wait for another incredible experience!!! Congrats to all of the beautiful ladies I will be walking beside. I can't wait! Xx
To be honest, the nip slip pic is hardly offensive, and Hadid looks just as comfortable and happy in those pictures as she does in the one she shared above.
Media is saying she "suffered" a nip slip, but I'm saying she totally rocked it.
Since the filming of the prerecorded event, Hadid can't stop sharing photos of herself. While she not-so-coincidentally left out the picture of her wardrobe malfunction, she did post some seriously stunning images.
In one caption, she went on a grateful, rambling, loving rant. She wrote,
What a dream come true...This year felt like my first year all over again. Emotionally, physically, mentally, in my health I feel so much stronger in so many ways and I am so grateful to all who have supported me, believed in me and stood by me. Thank you for giving me this opportunity again sweet @ed_razek@monica.mitro @10magazine@johndavidpfeiffer Yesterday was so unreal on so many levels. It took so much for all of this to come together and truly as a team we pulled it together as a WHOLE. I am grateful. I am happy. I am humbled. And I just can't stop smiling thinking about it!!! I can't wait for you all to tune in to this show. #vsfs2017 . Also ... WAS IT NOT MEANT TO BE THAT MY WINGS ARE THE DAMN [butterfly] EMOJI!?!?!!? Meant to be!!!!!! DREAM LOOK!!!!!!
Speaking of smiling, apparently Hadid has a bit of a reputation. While we're used to her smizing (if you don't know what I'm talking about, look it up or get out), we hardly ever see her showing her pearly whites.
Not anymore, modeling Gods! Hadid was all teeth in the following picture.
She captioned this one, "[butterfly emoji]...this. just. happened. [butterfly emoji] [fingers crossed emoji] (...SHE SMILES!!!!)"
Hadid was just one of the many sparkling ladies to walk the runway in a night full of gorgeous wings, stunning lingerie, and exactly one beautiful Harry Styles.
If you need me on Tuesday, Nov. 28, I'll be glued to my television wearing the opposite of the fantasy bra, waiting to catch Bella and her girls strut their stuff.
Tune into CBS to see it all go down at 10 p.m. ET.
Check out the entire Gen Why series and other videos on Facebook and the Bustle app across Apple TV, Roku, and Amazon Fire TV.