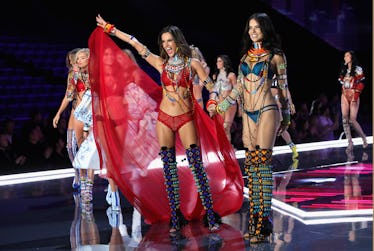 These Tweets About Harry Styles At The VS Fashion Show Will Make You Laugh So Hard
Lintao Zhang/Getty Images Entertainment/Getty Images
The world is ready and waiting for the Victoria's Secret Fashion Show scheduled to broadcast on Tuesday, Nov. 28. During the production, fourteen official angels plus many more models will strut their stuff and display some seriously beautiful lingerie. But that's not all. One of our favorite ex-boy band members performed in the pre-recorded event, and tweets about Harry Styles at the Victoria's Secret Fashion Show will have you rofl-ing all over.
Styles took the world by storm when he ventured out from One Direction to become a solo performer, and he's been killing the game ever since. Signature Harry-isms include his flowing long locks, "adorkable" laugh, and all of those fancy-shmancy suits. (You guys know the ones I'm talking about.) He tends to favor bright colors, sequins, and jewelry. Plus, I've never seen a hat that Harry Styles hasn't liked.
He somehow has all of the lovability of a golden retriever, the pizzazz of Freddy Mercury, and the sex appeal of someone who goes to the gym a lot, which makes him the perfect addition to the VSFS runway.
Mainly, we all agree Styles is pretty. Like, really, really pretty. So pretty, some people felt he was the most beautiful thing on stage the whole night. (And, you guys, there were literal supermodels walking around in their underwear.)
Twitter ate him right up.
Hilariously, Twitter also started guessing how Styles felt about not having a pair of his own angel wings.
The commentary got so, so funny.
In the end, it sounds like he totally crushed his performance. Because duh.
Styles came out swinging in his solo career with his single "Sign Of The Times" and he seems to get better with each new track. At the Victoria's Secret Fashion Show, he performed his song "Only Angel," which everyone agrees must have been created specifically for this show.
Styles once said that the scariest part about going solo is that you must stand behind every song you write, and there's no hiding when you're on your own.
He told Hits 1 in Hollywood radio,
I think you are very aware that everything you are writing you have to say. And I think you could — there is a part where you could write songs and kind of hide behind everyone singing and you could be like 'It wasn't me, it was him!' But I think it is kind of something, you have to stand behind everything you have written. And also, whenever I have written before it was never writing for my album, so it was always something where you would work out songs and now I can't do the 'It wasn't me' routine anymore.
Well, Harry, this time at the Victoria's Secret Fashion Show, it is you. And we freaking love it.
One thing Twitter hasn't touched on yet is the absence of Style's rumored girlfriend Camille Rowe, who walked in the 2016 Victoria's Secret Fashion Show. In fact, she's part of a growing list of models who are not coming back to the glittery stage this year, including Gigi Hadid and Kendall Jenner. Rowe is also the third angel reportedly linked to Harry Styles, alongside fellow models Sara Sampaio and Nadine Leopold.
Still, if Harry is harboring any resentment about Rowe not participating, it sounds like it certainly doesn't show in his performance. From what we can tell, he hit every note, nailed every step, and (almost) outshined the angels.
We can't wait to see it for ourselves on Tuesday, Nov. 28, on CBS.
Check out the entire Gen Why series and other videos on Facebook and the Bustle app across Apple TV, Roku, and Amazon Fire TV.