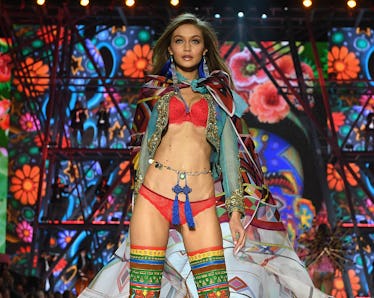 Gigi Hadid Won't Walk In The 2017 Victoria's Secret Fashion Show & Fans Are Crushed
Dimitrios Kambouris/Getty Images Entertainment/Getty Images
Hold onto your wings, friends, because Gigi Hadid will not be gracing the Victoria's Secret runway this year. Why isn't Gigi Hadid walking in the Victoria's Secret Fashion Show? Great question... that is up for debate. The news took fans by surprise since Hadid announced it just four days before the live show is supposed to be taped in Shanghai, China.
On Nov. 16, Hadid took to Twitter to announce that she would not be attending this year's VS Fashion Show. She did not give a reason in the tweet, but said she will be with her model friends "in spirit." The tweet said,
I'm so bummed I won't be able to make it to China this year. Love my VS family, and will be with all my girls in spirit!! Can't wait to tune in with everyone to see the beautiful show I know it will be, and already can't wait for next year! :) x
Hadid mentioned in the the tweet that she, "already can't wait for next year," which sounds like it means she's still on good terms with VS and is planning to audition for the show next year. I guess this year she can watch from home with Kendall Jenner.
This came as a shock because Hadid was already confirmed to be in the runway show. On Aug. 28, the model spilled the big news when she posted a photo from her 2016 VS Fashion Show fitting with the caption,
Forever and ever and ever a dream come true to be asked back to the VS Show !!! Thank you my friends @ed_razek @10magazine @johndavidpfeiffer @monica.mitro for another unforgettable opportunity; every aspect makes me feel like a dreaming kid again (as shown here at last year's fitting, by @jeromeduran)! ☁️ @victoriassecret#VSFS2017
Although the model just made her debut on the runway in 2015, she quickly became a staple in the show and a fan favorite. There are a few theories floating around as to why Hadid will not be attending the show.
Reports have been circulating that Hadid and a group of other models were not able to get their Chinese visas approved. The model has not confirmed this as the reasoning behind missing the show.
However, there is a can of worms on Twitter that has been opened — fans believe that Hadid will not be attending the show because of a video she posted back in February of 2017.
In the video, Hadid reportedly held up a Buddha cookie and imitated it. During the recording, you can see Hadid hold up the cookie to her face and proceed to smile and squint her eyes. Fans perceived this as racist, and were so pissed.
The video was posted on Bella Hadid's Instagram, and was quickly taken down. Fans are crediting this incident as the reason behind why Hadid will be sitting out the VS show in Shanghai.
The tweets are savage.
However, a lot of fans are crushed Hadid won't be in the show.
Neither Hadid nor Victoria's Secret has given an explanation to the last-minute cancellation. At this point, it's all speculation.
Hadid is lumped in with a small group of other models who are rumored not to be attending the show because of visa problems. According to Fashionista, Russian models, Julia Belyakova, Kate Grigorieva, and Irina Sharipova are not able to attend the show along with Ukrainian model, Dasha Khlystun. Once again, no model has confirmed this news — there's no proof at this point that they won't be on the catwalk.
The silver lining is that one of the models listed above, Julia Belyakova, posted a photo on Instagram Nov. 16 that was related to the VS show. In the caption, she says, "#Shanghai #beijing we are coming for ya." This alludes to the idea that she will in fact be attending the show.
So, there's some good news for you. As for Hadid, maybe we'll find out the real reason she won't be attending, but there's a good chance we won't. The runway will feel a bit different without her, but I'm sure it will glitter just as bright. The show airs on CBS Nov. 28, so get ready to sparkle.
Check out the entire Gen Why series and other videos on Facebook and the Bustle app across Apple TV, Roku, and Amazon Fire TV.