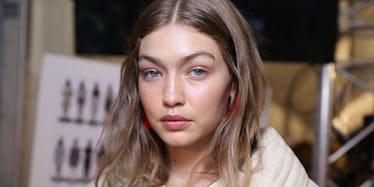 Video Of Gigi Hadid Imitating Buddha Has Internet Accusing Her Of Racism Again
REX/Shutterstock
It's no secret Gigi Hadid loves doing impersonations.
Remember that time she did a terrifying impression of Melania Trump at the AMAs?
Well, it turns out the first lady isn't the only one falling victim to Gigi's awful impressions these days.
Apparently, Gigi Hadid recently decided to imitate Buddha, and now the internet is outraged.
Gigi's sister, Bella Hadid, posted a video on Instagram that shows the 21-year-old runway model doing her best impression of the religious figure while out at a restaurant for a friend's birthday.
In the short clip, you can see Gigi hold up a Buddha-shaped biscuit next to her face, then copy its facial expression by smiling and squinting her eyes.
The post was later deleted from Bella's Instagram account.
However, this didn't stop people from calling Gigi Hadid out for racism.
That's right. A lot of people seemed to be pretty offended by Gigi's imitation of the sacred religious figure.
Now the Internet is asking the "racist" runway model to apologize for her bad behavior.
Apparently, this isn't the first time Gigi has been accused of racist behavior by the internet.
Back in 2015, Gigi was accused of cultural appropriation after she posed for the cover of Vogue Italia wearing a blue afro hairstyle.
Then, Gigi was criticized again when she and her sister wore colorful dreadlocks during a Marc Jacobs runway show last year.
While many people on Twitter were quick to slam Gigi Hadid for her most recent display of "racism," others fans stepped up to defend the young celebrity.
A lot of people pointed out that Gigi's boyfriend, Zayn Malik, is of Asian decent since his father is British Pakistani, while Gigi's own father, Mohammad Hadid, is Middle Eastern.
Others said people wouldn't have made such a big deal over her Buddha impression if she wasn't such a big celebrity.
Regardless, it seems like Gigi should definitely lay off the impressions a while.
Citations: Gigi Hadid branded 'racist' after image of her imitating Buddha is posted online (Metro)