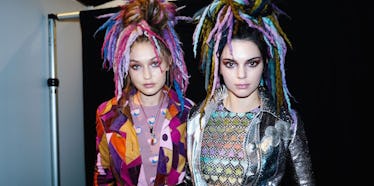 Internet Slams Kendall Jenner And Gigi Hadid After Their Latest Runway Show
REX/Shutterstock
People are not too happy with Kendall Jenner and Gigi Hadid at the moment.
The two models walked in Marc Jacobs' New York Fashion Week show and are in hot water for cultural appropriation.
The designer is being critcized for casting predominately white models and having them wear giant muticolored wool dreadlocks.
According to DailyMail.com, Marc Jacobs claims the look was inspired by Harajuku girls, rave culture and London style in the 1980s.
However, people aren't buying it and are furious at Kendall Jenner and Gigi Hadid for appropriating black culture.
Many went to Twitter to slam the models and Marc Jacobs for the poor-tasting choice.
The internet also pointed out only two black models walked in the show.
Kendall Jenner and Gigi Hadid haven't commented on the backlash, but they aren't the only celebrities being criticized.
Little sister Bella Hadid was also part of the show.
Next time, maybe designers should reconsider the repercussions of their actions. Just sayin'.
Citations: Kendall Jenner Gigi Hadid Cultural Appropriation (Daily Mail)