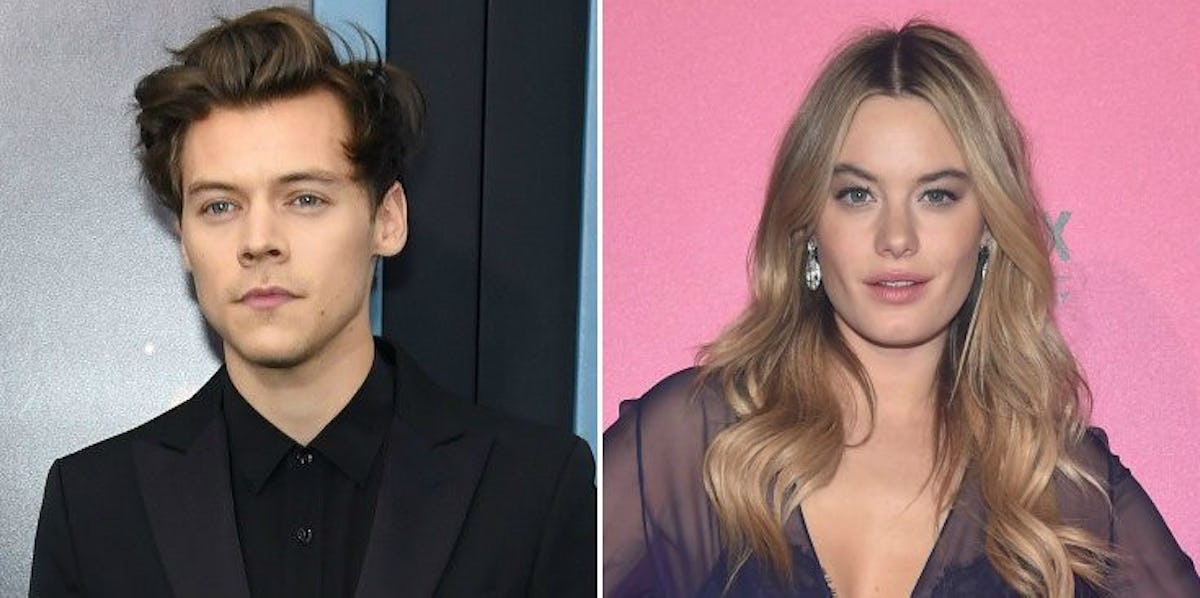 Harry Styles Did The Cutest Thing For Camille Rowe & Now Fans Think They're Dating
Getty
Harry Styles and Camille Rowe have been flaunting their would-be-could-be love in our faces for a couple of months now. We've all been trying to peg if they're officially together or just friends who are tricking us. Recent photos of Harry Styles and Camille Rowe could be the proof we need to make the final call.
The dating rumors between Styles and Rowe began in early August. According to Daily Mail, Styles and Rowe were seen together at a gig in NYC. The couple being photographed together really fueled the speculation. Reportedly, Styles is "besotted" with her. I'm curious to know who this source is that uses the word "besotted." If Harry ever writes a song rhyming "besotted" with "a flower potted" — we will all know he's the one who spilled the beans. The news about these two did start to quiet down a bit... until recently.
On Monday, Aug. 25, Styles and Rowe were photographed while out to eat together in Los Angeles. A fan managed to snag a picture of the two on their way out of the restaurant. The most interesting part about the photo is that Styles is carrying Rowe's purse. Although the dating rumors have not been confirmed by Styles nor Rowe, what friend carries another friend's purse? A BOYFRIEND THAT'S WHO.
He's either stretching his chivalrous muscle or mugging her — hopefully it's the first one. Styles recently had surgery on his right wrist for "tight tendons," and still managed to carry Rowe's bag... and you can't even get a text back.
It wouldn't be surprising if these two were dating — Harry has a thing for Victoria's Secret models. Rowe is the third angel Styles has been linked to. In 2015, it was rumored he was smitten with Nadine Leopold, and then, later, he was seen giving a quick smooch to Sara Sampaio. Harry Styles, what are we going to do with you?
Another clue that Styles and Rowe may be the real deal happened during an interview Styles did with BBC1 Radio. While doing promotional interviews for Dunkirk, Styles stopped by the studio for an interview with Nick Grimshaw.
During the interview, Styles was hooked up to a heart rate monitor and shown a variety of pictures. The test was to see what pictures made the "Sweet Creature" singer's heart race. The images ranged from Ryan Gosling shirtless to a briefcase full of money — pretty random stuff. Then, Styles was shown a picture of Rowe. Although his heart rate didn't falter (it actually lowered — a little unsettling), it's still weird Rowe was even in the mix at all.
Why Camille Rowe? Strange, right? Styles answered, "I don't know her. I'm sure she's wonderful. I'm sure she's a wonderful person." He then starts laughing and telling people off camera, "I hate everything about you." What was he hiding? Why all the giggles? Check out the video above — Rowe's picture pops up at 2:40.
Even if these two are dating, they may not be photographed together often because Styles is probably very busy on tour. Styles kicked off his solo tour, Harry Styles Live On Tour, Tuesday, Sept. 19 and is planning to be, literally, all over the world. The concert looks amazing and features Styles in one-of-a-kind costumes like head-to-toe florals.
LOVE. Only Harry Styles could pull off this look. Even his former One Direction bandmate and BFF, Niall Horan, enjoyed the show in Los Angeles on Sept. 20 at the Greek Theater. Horan was seen smiling while appreciating the show.
The tour is scheduled through Dec. 8, with it's final show in Japan. Needless to say, for the next few months we'll be wondering, "Where in the world is Harry Styles?" As you can guess, it's probably hard to maintain a relationship like that, but we'll see.
Honestly, Camille Rowe and Harry Styles make a very cute couple. Hopefully they give us more signals about their relationship status soon.
Check out the entire Gen Why series and other videos on Facebook and the Bustle app across Apple TV, Roku, and Amazon Fire TV.