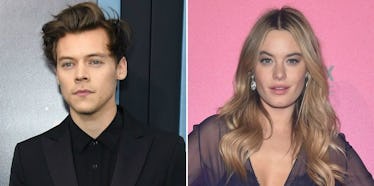 Tiny Detail In Harry Styles' Interview Might Prove He Was Dating Camille Rowe All Along
Getty
Harry Styles could be off the market, and I'm upset. How will we ever randomly bump into each other in the pouring rain and fall in love? Great, just great. After being seen all over New York City together, rumors are swirling that he's dating Victoria's Secret model, Camille Rowe. Although, Styles nor Rowe have confirmed this relationship, you can't hide from the paparazzi... or Twitter. If the rumors are true, then how long have Harry Styles and Camille Rowe been dating? Well, a small detail in a past interview could answer that very question.
Elite Daily reached out to Harry Styles' team and Victoria's Secret for comment, but did not hear back by time of publication.
If the rumors are true, this interview with BBC1 Radio could reveal when Harry Styles and Camille Rowe reportedly started dating. Let me give you some background: While doing promotional interviews for Dunkirk, Styles stopped by the BBC1 Radio station for an interview with Nick Grimshaw.
During the interview, Styles was hooked up to a heart rate monitor and shown pictures. The test was to see what pictures made the "Sweet Creature" singer's heart race. The images ranged from Ryan Gosling shirtless to a briefcase of money, and it all seemed like pretty random stuff. Then, Styles was shown a picture of Rowe. My question is — of all the beautiful women, Victoria's Secret models, blonde people, whatever — why Camille Rowe? ISN'T THAT ODD?
They could have chosen any person's picture to show him, but they chose Rowe. Funny coincidence, or were Styles and Rowe heating up weeks ago? His heart rate did lower, which is unsettling. Maybe he finds her comforting or something?
He answered, "I don't know her. I'm sure she's wonderful. I'm sure she's a wonderful person." Hmmm... I'm not buying it. He then starts laughing and telling people off camera, "I hate everything about you." What are you hiding, Harry Styles? Check out the video above around the 2:40 mark to see for yourself.
If this detail means anything, it could get us all one step closer to figuring out when Styles and Rowe first got together. Styles is known for dating models, so Stowe (this is what I'm calling Styles and Rowe now) don't make that unlikely of a pair. He has reportedly dated Kendall Jenner on-and-off over the last couple of years, and even had a short fling with Cara Delevingne. That's all in the past now because, according to Daily Mail, Styles is "besotted" with Rowe.
*Googles "besotted"*
The first meaning, according to Google's dictionary, is "strongly infatuated." The second is "intoxicated, drunk." Are we ready to get besotted this weekend? Impress your friends with that one.
Until then, Ryles (do you guys like this better than Stowe?) will keep us wondering. TBH, your guess is probably as good as mine. They do make a pretty cute couple, so wishing them both the best.