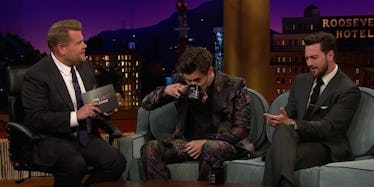 Harry Styles Got So, So Awkward When James Corden Mentioned Kendall Jenner
CBS
Harry Styles can't catch a break during interviews these days, and it's getting harder and harder to watch.
The former One Direction singer is on a media tour to promote his new self-titled album, which dropped last week, but it's not just his music that's making headlines.
People really want to talk about his exes.
In an uncomfortable radio interview last week, Styles was asked about his song "Two Ghosts," which much of the internet has decided is about his ex Taylor Swift. His response?
I mean I think it's pretty like self-explanatory… Help me, Jeffry… I think, you know, it's about sometimes things change and you can be, you know, do all the same things and sometimes it's just different. You know?
Welp, that cleared absolutely nothing up except for the fact that we all know he gets uncomfortable at the mention of his former flings.
So naturally, on Monday night's episode of "The Late Late Show with James Corden," which Harry will be guest starring on all week, another ex-girlfriend inevitably came up.
Aaron Taylor-Johnson was also a guest on Corden's show and the three got to talking about the actor's chicken coop. It turns out, his chickens are named after the Kardashians.
Corden prodded the "Kick-Ass" star to list out specifically which Kardashian chickens were in the coop, leading Taylor-Johnson to say,
There's Kylie, Kendall... Kourtney, Khloé, Kim, Kris and Caitlyn... and they're called the Kardashickens.
The important part to note here is the dramatic pause after Kendall's name and Harry's squirmy reaction.
While the crowd clapped, Harry looked around uncomfortably before staring intently into his drink.
I hope there was something strong in there, bud.
Harry and Kendall Jenner were spotted getting cozy in St. Barts at the beginning of 2016 and Khloé even admitted the two were dating. So there is definitely history between the supermodel and singer.
The awkwardness of the show didn't stop there, though. Taylor-Johnson, talking about the chickens again, revealed,
They lay every day.
"Do they lay every day, Harry?" Corden asked, as the singer literally turned away from the camera.
Yeeesh. Now I'm feeling awkward for both Kendall and Harry.
Of course, it's kind of the 23-year-old's fault his exes keep getting brought up, after he hinted in a Rolling Stone interview that one woman in particular inspired much of the album.
While he didn't confirm who the woman was, he revealed,
She's a huge part of the album… Sometimes you want to tip the hat, and sometimes you just want to give them the whole cap… and hope they know it's just for them.
What did you think was going to happen when the album was released, Harry? Did you think we were going to forget about everyone you've ever even kind of dated? You clearly don't know your fans.
You can watch Harry get awkward all week on the show, and he'll also be starring on an upcoming segment of "Carpool Karaoke."
Maybe they'll jam out to a Taylor Swift song?
Citations: Watch Harry Styles Squirm Over A Kendall Jenner Joke (Refinery29)