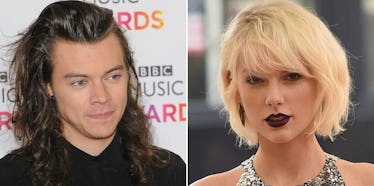 Fans Think Harry Styles Wrote A New Song About His Relationship With Taylor Swift
Getty Images
Harry Styles and Taylor Swift had an incredibly short relationship, but that doesn't mean it wasn't significant.
The couple started dating at the end of 2012 and officially called it quits nearly as soon as 2013 began, but it was significant in the sense that it provided the world with lots of entertainment, namely in the form of multiple Swift songs rumored to be about the couple.
And it looks like fans still aren't finished reaping the musical rewards of the Styles-Swift whirlwind romance.
In a revealing interview with Rolling Stone in April, Styles opened up about his relationship with Taylor Swift and responded to the almost indisputable fact that "Style" and "Out of the Woods" are about him. He also hinted he's not above writing songs about her, saying,
Certain things don't work out. There's a lot of things that can be right, and it's still wrong. In writing songs about stuff like that, I like tipping a hat to the time together. You're celebrating the fact it was powerful and made you feel something, rather than 'this didn't work out, and that's bad.'
On Tuesday, Apple Music teased lyrics for Styles' new song "Two Ghosts" off his highly anticipated debut solo album, which will be released Friday, and fans are already convinced it's about Swift herself.
Soon after Styles dropped the track list for the album, eagle-eyed fans began guessing which song would be about the pop princess.
At first, much of Twitter was convinced it was a song titled "Ever Since New York," referencing Swift's "Welcome to New York" off her 1989 album.
But after he performed it on "Saturday Night Live," it seemed like ol' Harry might have thrown us a curveball and perhaps it wasn't about T. Swift, after all.
Now Twitter is convinced "Two Ghosts" is without a doubt the former One Directioner's song about the singer who writes songs about everyone she has ever dated.
In the teaser video for the Behind the Album feature Apple will be releasing, there's a quick shot of a notepad with what appear to be the lyrics for "Two Ghosts."
With some careful zooming in -- and quite a bit of squinting -- it looks like the lyrics are as follows:
Same lips red, same eyes blue Same white shirt, couple more tattoos, But it's not you, and it's not me, Tastes so sweet, looks so real, Sounds like something that I used to feel, But I can't touch what I see We're not who we used to be, We're not who we used to be We're just two ghosts standing in...
In case you need a refresher, the lyrics for Swift's "Style" have some serious similarities.
You got that James Dean daydream look in your eye And I got that red lip, classic thing that you like And when we go crashing down, we come back every time 'Cause we never go out of style, we never go out of style You've got that long hair slick back, white t-shirt And I got that good girl fate and a tight little skirt And when we go crashing down, we come back every time 'Cause we never go out of style, we never go out of style.
At the very least, the two singers share an interest in red lips and white shirts.
The countdown to Friday's album release -- when we can really dissect the lyrics off the track and the album as a whole and read way too much into every.single.word -- begins now.
Citations: SO 'TWO GHOSTS' APPEARS TO BE HARRY STYLES' NEW TAYLOR SWIFT SONG... (Cosmopolitan)