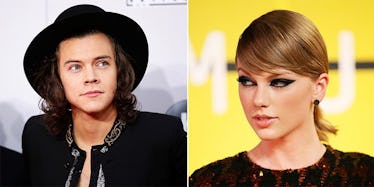 Harry Styles Drops Track List And Fans Already Think He's Dissing Taylor Swift
REUTERS
Until he finds himself in another monumentally publicized celebrity romance that inspires a platinum album with the most successful debut in over a decade, Harry Styles will not be able to release music without fans wondering which song is about Taylor Allison Swift.
Following their breakup, Taylor wrote a whole stinking album (2014's hugely successful "1989") for Harry.
He was still a member of the now-dead-and-buried One Direction at the time, but when the band released "Perfect," a song that not only sounded just like Taylor's hit "Style," but lyrically alluded to the duo's time together, it was clear Harry was willing to play — though maybe not beat — Taylor at her own game.
Harry took some time off following 1D's split, but returned last week with "Sign of the Times," the lead single from his debut solo album.
Now, the 23-year-old is sharing his album art and track list with fans, who are raring and ready to make some bold assumptions, particularly regarding one song titled "Ever Since New York."
Could this track allude to "Welcome To New York," another song off "1989" detailing the wonders of New York through the perspective of a TriBeCa resident who never has to see the rest of the city should she choose to avoid it?
Twitter thinks so.
This relationship is five years old, so it's a long shot any of these songs are about the Haylor romance.
Yet, "1989" gave us so many amazing Swift songs, we can't help but be a little greedy when it comes to Harry's solo catalogue.
Bring on that stale, stale drama. Plenty of us will gladly gobble it up like a discount baked good at Au Bon Pan an hour before closing.
Harry is set to perform "Only Angel" and "Ever Since New York" on "Saturday Night Live" on April 15. Perhaps the lyrics will decide this one for us.
Citations: Harry Styles Provokes Fans With Ever Since New York Track They Believe Is About Taylor Swift! (Perez Hilton)